Hoi An to Hue by Private Car
Pick up from Hotel in Hoi An to Hue City, 1 way or 2 ways.
4 seaters car

1 way

$60

2 ways

$75
7 seaters car

1 way

$75

2 ways

$85
16 seaters car

1 way

$90

2 ways

$90
Commitments are cheaper than Taxi and Grab. Saving up 40%. Pay after end each trip. Instant confirmation. New cars with strong A/C. Highlights: Friendly Drivers Available, 24/7 Online Support Available, Fast Response.
Beside Danang, Hoi An, Hue City is also a destination not to be missed when you travel in the Central Region. From romantic Hoi An to Hue, if you don't want to miss the beautiful spots on the road, you should choose a private car
Hue is an ancient royal city in Central Vietnam. It was capital during the reign of the last dynasty of Vietnam – the Nguyen Dynasty (1802–1945). The city is known for its sturdy and majestic buildings and structures like the Citadel, royal tombs, garden houses and pagodas.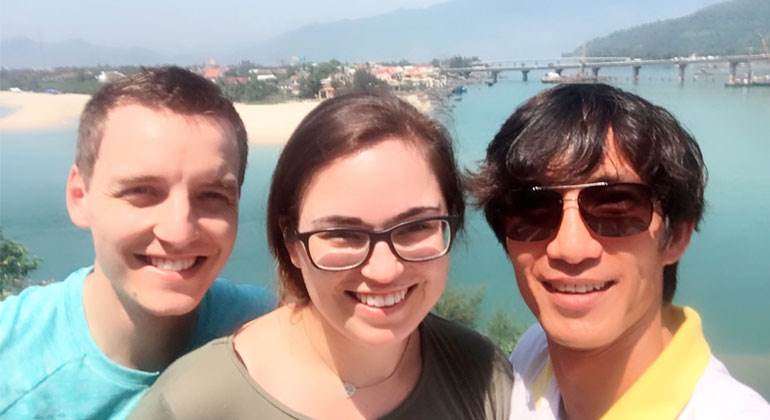 The distance between Hoi An and Hue is 123 kilometers which is more or less 3 hour drive with a private car via Hai Van Tunnel. Unlike taking the bus or taxi, private transfer allows you to depart on your most convenient time and enjoy full day sightseeing along the way.
There are several places to visit along the way from Hoi An to Hue. Hoi An Private Cars give you the freedom to choose the places you want to explore a little more. Among the recommended stops are the following:
Marble Mountain – A cluster of 5 limestone and marble mountains that represents the nature elements. Marble Mountains are covered with Hindu and Buddhism grottoes. It rewards its visitors with a fantastic panoramic view of Danang at the peak.
My Khe Beach – Featured in Forbes Magazine and dubbed as Vietnam's most "picturesque beach". This long white sand beach is one of the most visited beaches in Vietnam. My Khe Beach is a great place for sunbathing, relaxation and water adventures.
My Son Sanctuary (upon request +30 USD) –is the holy land of the ancient kingdom of Champa. It is recognized as a Cultural Heritage site by UNESCO in 1999. My Son Sanctuary reveals secrets of the ancient Hoi An dwellers, the Cham and at the same time fascinates and baffles archaeologists. My Son Holy land is an attractive destination not only for domestic but also international tourists to visit and learn about the culture, history, and architecture of Champa Ancient Kingdom.
Golden Bridge Ba Na Hills Danang (upon request +30 USD) – The new online sensation, the Golden Bridge rose to fame due to its unique and otherworldly architectural design. Two giant hands holding a fine golden footbridge at the top of the mountain gives the best photo opportunity to its visitors.
Hai Van Pass – A beautiful 21 kilometer winding road between Hue and Danang and was featured on Top Gear and dubbed as "one of the best coastal roads in the world". It is a must see when you are traveling from Hoi An to Hue by private car. You won't get to the Hai Van Pass viewpoint if you are traveling by bus or train.
Lang Co Beach – A beautiful white beach at the end of Hai Van Pass. Lang Co is a town in the middle of two bodies of water, the Lang Co Beach and Lap An Lagoon.
Lap An Lagoon – Well-known for its fresh oyster farms and stunning view, Lap An Lagoon is a great stop for refreshments.
Elephant Springs (upon request+10$) – Natural water springs cascading down along huge walls of rock in the middle of the forest. The perfect place to swim, eat & drink and relax.
You may be looking for maps from Hoi An to Hue City
We can help you!
Need help from us? Feel free to call us.
+84 919 57 45 45
johnnykhanh.global@gmail.com
Want to meet and talk Directly? Find us here!
Main Office: 75 Tran Quang Khai st.,
Hoi An City, Vietnam
Monday to Sunday
08.00am – 08.30pm
Frequently Asked Questions
Lucy Lily
Review from Google
Me & my friends booked a private car for a day trip Hoi An yesterday. Danang private taxi offered me a Toyota innova, which was a clean & comfortable car for us. We had an enjoyable time with driver as well.
Thang Le
Review from Tripadvisor
We were so happy to choose right service, Driver man very friendly, enthusiasm, and also can speak English. he took us to many nice place, and recommend cheapest and the best restaurants…
Dave Byrne
Review from Google
Woman who organised was friendly and caring, taxi driver drove slowly (as we requested) and the picked us up/dropped us off hotel to hotel. Fully recommend this service.
Lisa Krl
CEO, Techtonic Inc.
Wir haben eine private Tour nach Hue gebucht und alles lief reibungslos. Wir konnten selbst entscheiden, welche Stops wir auf dem Weg machen wollten. Einziger kleiner Minuspunkt ist…
CAR RENTALS

– IN CENTER OF VIETNAM!
Call to Book
+84 919 57 4545 (Johnny)
(Viber, What's App, Line Support…)
---
Support E-mail