Book a private car from Hoi An to Da Nang. Pick up at hotel, private house in Hoi An to hotel or Danang airport. The price is only from 10$ (220,000đ). The price is 40% cheaper than Taxi and Grab.
Price list from Hoi An to Da Nang
4 seaters car

12$

or

270,000 đ

7 seaters car

14$

or

320,000 đ

16 seaters car

19$

or

450,000 đ

Commitments are cheaper than Taxi and Grab. Saving up 40%. Pay after end each trip. Instant confirmation.
New cars with strong A/C. Highlights: Friendly Drivers Available, 24/7 Online Support Available, Fast Response.
Private car from Hoi An to Da Nang
If you are looking for a vehicle from Hoi An to Da Nang, do not forget to choose a private car. That is the best way for you to enjoy all the new and youthful beauty of Da Nang – the city of the bridges. Go along the most beautiful seaways in the city, watching the bustling life of the local people before coming to Hoi An – a small town famous for it's spectacularly well-preserved old trading port. The old town of Hoi An is one of the must destination in Southeast Asia due to its unique beauty, delicious cuisine and rich culture.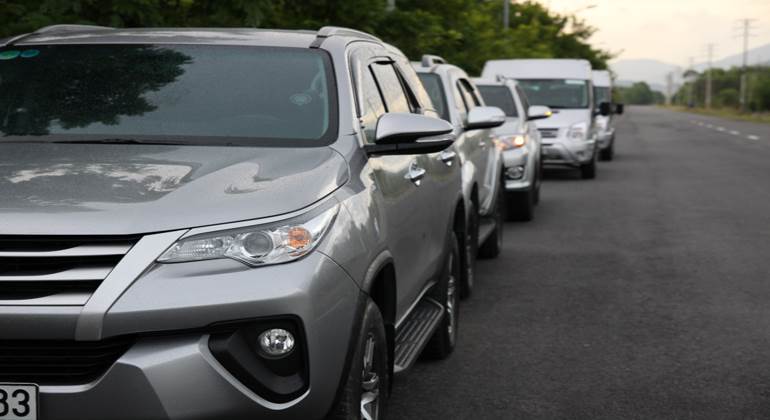 Hoi An to Da Nang is 28 kilometers which is less than an hour drive with a private car. Unlike taking the bus, private transfer allows you to depart on your most convenient time and may opt to enjoy sightseeing along the way which will save you time and money rather than getting separate tour afterwards.
There are several places to visit along the way from Hoi An to Da Nang. Phuong Tran Travel gives you the freedom to choose the places you want to explore a little more.
Among the recommended stops are the following:
Linh Ung Pagoda (upon request + 12$) – Sitting on the stunning Son Tra Peninsula, Linh Ung Pagoda is the home of the famous giant 64 meter "Lady Buddha" statue. Dubbed by the locals as "a meeting place of Heaven and Earth's sacred air".

The Marble Mountains (upon request +8$)

– A cluster of 5 limestone and marble mountains that each represent one of the elements. Covered with Hindu and Buddhism grottoes, the Marble Mountains offer a fantastic panoramic view of Danang at the peak, great for photo opportunities.
My Khe Beach – Featured in Forbes Magazine and dubbed as Vietnam's most "picturesque beach". My Khe Beach offers 30 kilometers of golden white sands and crystal clear water. Perfect for sunbathing & surfing.
My Son Sanctuary (upon request +35$) – It is located 37 kilometers from Hoi An, roughly an hour drive. Between the 4th and 13th centuries, a culture which owed its religious origins to Indian Hinduism existed on the coast of contemporary Vietnam.
You may be looking for maps from Hoi An to Da Nang