Book a Grab car from Da Nang to Hue city. Pick up at your homestay, villa, hotel or airport in Danang to Hue city. Prices only from 55$ (1,265,000đ). Car prices are 20% cheaper than Taxi.
Price list from Da Nang to Hue City
4 seaters car

55$

or

1,265,000 đ

7 seaters car

70$

or

1,610,000 đ

16 seaters car

85$

or

1,955,000 đ

Commitments are cheaper than Taxi. Saving up 40%. Pay after end each trip. Instant confirmation.
New cars with strong A/C. Highlights: Friendly Drivers Available, 24/7 Online Support Available, Fast Response.
Grab car from Da Nang to Hue City
Danang to Hue by car is the only option if you want to visit Hue but don't want to miss the best Hai Van Pass, or the impressive Lang Co Beach with blue sea, white sand or poetic An An Lagoon.
Hue is an ancient royal city in Central Vietnam. It was capital during the reign of the last dynasty of Vietnam – the Nguyen Dynasty (1802–1945). The city is known for its sturdy and majestic buildings and  structures like the Citadel, royal tombs, garden houses and pagodas.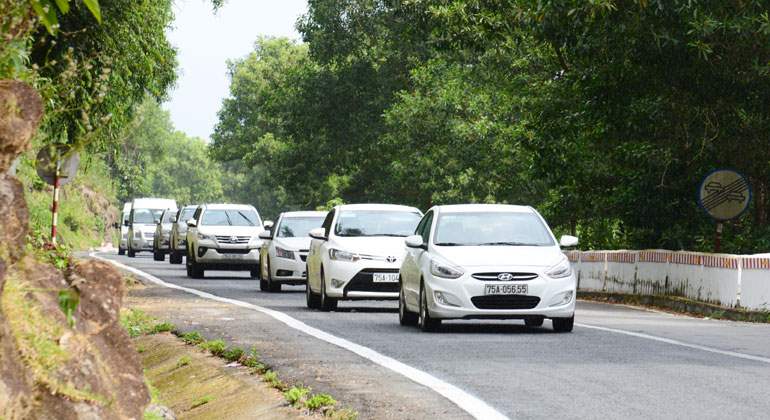 Danang to Hue is 94 kilometers which is more or less 2 hour drive with a Grab car via Hai Van Tunnel. If you are ready for an adventure, you can take a private transfer which allows you to depart on your most convenient time and enjoy a full day sightseeing along the way.
Specifically, there are several places to visit along the way from Danang to Hue. Hoi An Grab cars give you the freedom to choose the places you want to explore a little more.
Among the recommended stops are the following:
Hai Van Pass – A beautiful 21 kilometer winding road between Hue and Danang and was featured on Top Gear and dubbed as "one of the best coastal roads in the world". It is a must see when you are traveling from Danang to Hue by Grab car. You won't get to the Hai Van Pass viewpoint if you are traveling by bus or train.
Lang Co Beach – A beautiful white beach at the end of Hai Van Pass. Lang Co is  a town in the middle of two bodies of water, the Lang Co Beach and Lap An Lagoon.
Lap An Lagoon – Well-known for its fresh oyster farms and stunning view, Lap An Lagoon is a great stop for refreshments.
Elephant Springs (upon request+10$) – Natural water springs cascading down along huge walls of rock in the middle of the forest. The perfect place to swim, eat & drink and relax.
You may be looking for maps from Da Nang to Hue City