Bana is one of the famous tourist areas of Da Nang, each year welcomes thousands of visitors from home and abroad to visit, explore and relax. Ba Na Hills converges all the advantages that not all resorts have, but certainly when you come here you will not be surprised and excited. So what does this destination make anyone who wants to visit Danang want to visit once?
Today I will share my experience of traveling to Ms Ba Hills to see what is there for herself, what to play … to prepare for your next journey.
I would like to tell you all the information about going up to Ba Na Hills for those who have much time to explore as well as young people traveling on their own. If you do not want to think too much, you can take the tour. Hopefully this article will give you an overview and feel that things are not as difficult as you think. Please follow along!
Ba Na Hills travel experience self-sufficient – Information to know
Ba Na Hills is known as one of the first and most famous mountain tourism destinations in Vietnam that any tourist cannot ignore. This place is like the "road to the foreground" or "the small capital Europe" of Danang… Thanks to the majestic and charming natural scenery, there are beautiful ancient architectural works, colorful flower gardens and all the interesting entertainment games have created an incredible attraction for Ba Na.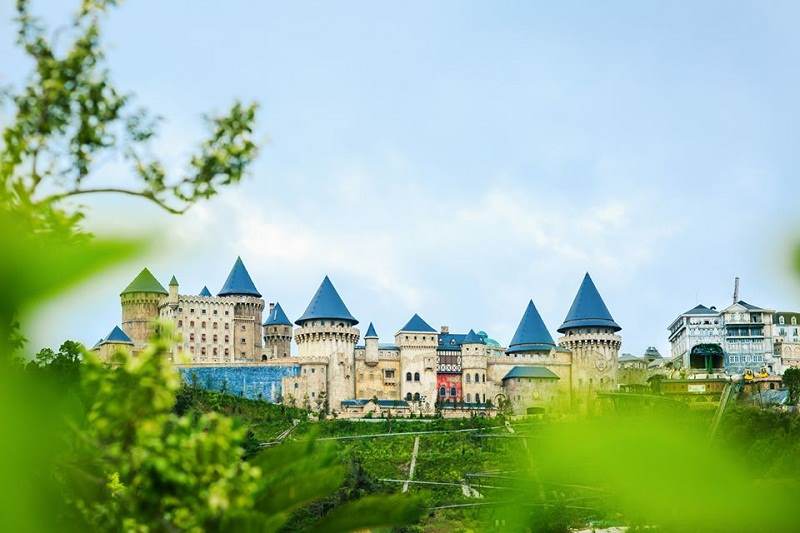 In fact, Ba Na Hills was discovered by a French infantry captain (April 1991). Due to the recognition that Ba Na Nui Chua had favorable terrain and fresh climate, it was chosen as a place for recreation and relaxation for French soldiers. Since then, many hotels and resorts have sprung up from the mountains to the top.
However, after that, the devastation of the war as well as the harsh nature destroyed the buildings, the lodges gradually disappeared, and the castles gradually disappeared, turning Bana into a deserted place.
More than 50 years later, Da Nang was allowed to rebuild, become an eco-tourism area with a system of restaurants, sightseeing areas, amusement parks and hotels…
Travel experience Ba Na Hills is self-sufficient in address & road
Where is Ba Na Hills tourist area, how far is it from Danang?
According Ba Na Hills travel experience, Ba Na is located on the top of Nui Chua, at an altitude of 1,500 m above sea level. This is one of the highest mountains of the majestic Truong Son mountain range. Located in Hoa Ninh commune, Hoa Vang district, about 30 km southwest of Danang city center. This distance is assessed not too far, so the movement is relatively easy and convenient.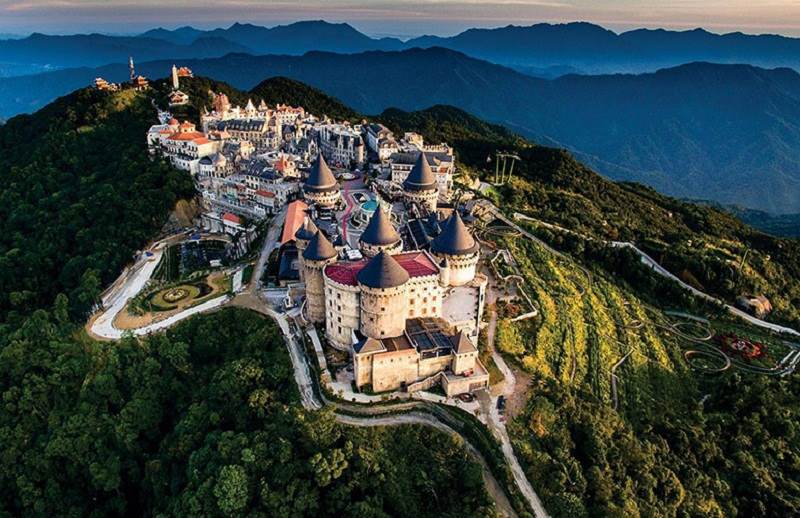 Travel experience Ba Na Hills self-sufficiency should follow any path?
There are 3 main routes to Ba Na, but the two most selected routes are Ba Na – Suoi Mo and QL14B.
Ba Na – Suoi Mo route: this is the most used route because this route leads to the shortest Ba Na Hills. From the center of Da Nang city, you turn to Duy Tan street. Meet the first roundabout, then turn to Nguyen Van Linh. Go to the second roundabout, then turn to Nguyen Tri Phuong. At the 3rd roundabout, you turn left to Dien Bien Phu, meet the 4th round and follow QL1A. Then turn left to Ba Na – Suoi Mo / Hoang Van Thu Street, go straight to Ba Na Hills tourist area.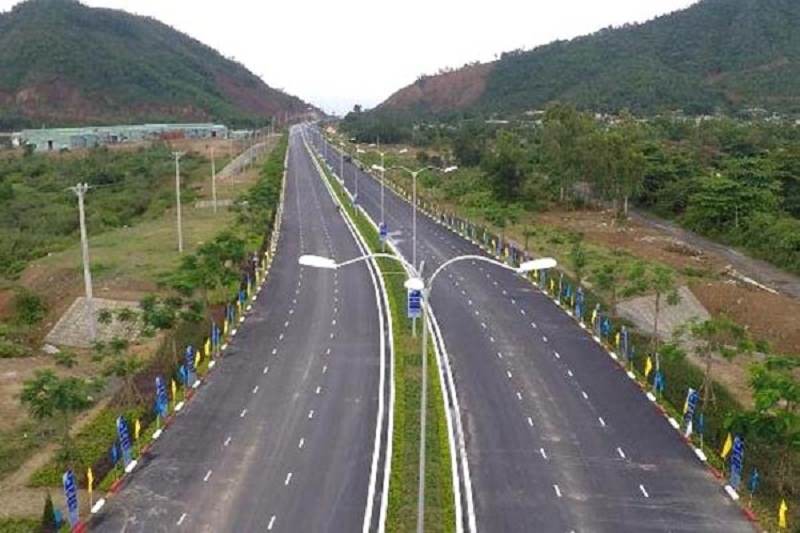 Route QL14B: From the center of Da Nang city, you go to Nguyen Huu Tho. Go to the roundabout, turn right into the August Revolution road / QL14B. Go straight, then turn to the bypass road of the city, go for about 7.5 km and turn left to Ba Na – Suoi Mo street. On the road there will be signs, you can follow the instructions or just go straight to the destination.
When is the best time to travel to Ba Na Hills?
Climate in Ba Na Hills tourist area is nothing special?
Due to the favorable geographical position, located on high mountains, the weather on Ba Na is somewhat special compared to Da Nang. The average summer temperature ranges between 17 degrees Celsius, while in the city it is 37 degrees Celsius. The lowest temperature is 2 degrees Celsius in winter and the highest in summer is 25 degrees Celsius, cool all year round. Batch, pleasant.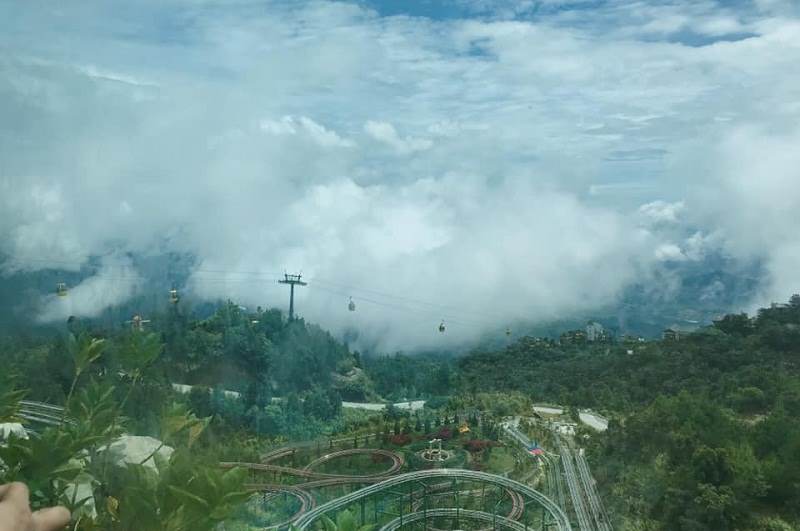 Another difference compared to other resorts is that one day in Ba Na has 4 seasons. In the early morning the calming weather of spring; Noon is the blazing sun of summer; in the afternoon when the sun went down, the fog pulled back like autumn and winter was when the night fell, and the heat dropped only to the chilly atmosphere.
This is the reason that Ba Na Hills was dubbed "Sapa of Central Vietnam" or "Dalat in the heart of Danang".
Ba Na Hills travel experience self-sufficient time
To answer the question: What is the most beautiful season for Ba Na Hills? According to Ba Na Hills's self-sufficient travel experience, going to Ba Na every season, different times give you different interesting experiences.
However, usually from April to August each year is the busiest time. Because it is summer, the weather is dry, less rain, convenient for moving and participating in outdoor activities.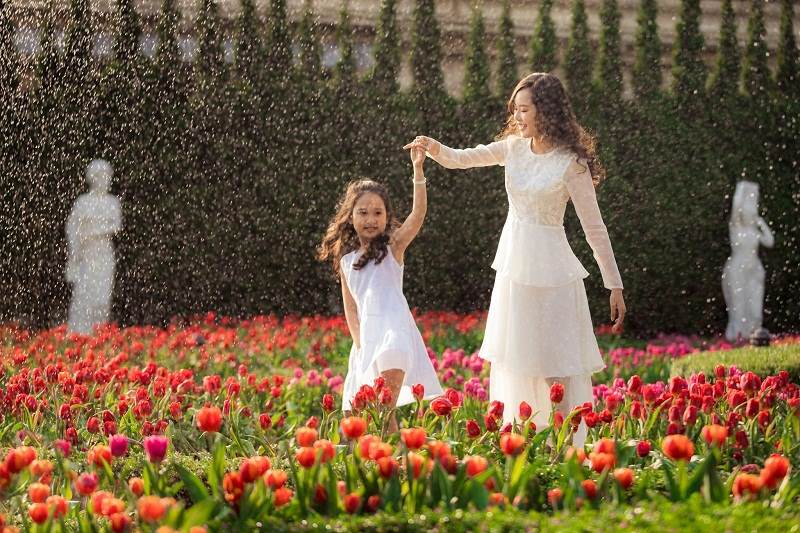 Or you can watch and come here to Ba Na Hills during the festive season to participate in various festivals, held very lively, bustling as:
Flower Festival (from February 10 to March 9).
Carnival Carnival from April to September at Du Dome square.
Wine festival from 5/5 – 20/5.
B'estival 1/6 Beer Festival – September 5, 2018.
Halloween.
Take place throughout October.
Winter festival in the last days of 2018.
The scenery in Ba Na – Nui Chua is really like a fanciful paradise, misty afternoon, flowers and nature lurking under that illusion with the figure of the people enthusiastically performing to create a picture. landscape paintings are very captivating, like Chinese ink paintings.
Ba Na Hills travel experience self-sufficient guidance on transportation
As with other travel experiences, there are many ways to get to Ba Na Hills. You can choose to ride a motorbike, private car, shuttle, taxi. These are the most common means.
Ba Na Hills travel experience by Taxi
If you are traveling in a group, if you want to save fast travel time, a taxi is a good, convenient choice. But in return for high costs, the average price of a taxi to Ba Na Hills is about 450,000 VND / one way.
Besides, the full-service taxi service (shuttle to and from home) is also quite a lot of tourists choose. However, you should consider carefully before making a decision, because cheap packages are usually limited to 4 hours, if you want to extend, you have to pay an additional 100,000 VND / hour.
With this time frame is not enough for you to fully explore Ba Na, if asked to wait, the amount will be quite a lot.
Travel experience Ba Na Hills by Car
When traveling but traveling in groups or families, you only have one option: rent a car to facilitate sightseeing and move more actively.
Traveling together to explore new skies by car is more convenient than taxis, you can take the initiative in the places you like, take the initiative in time.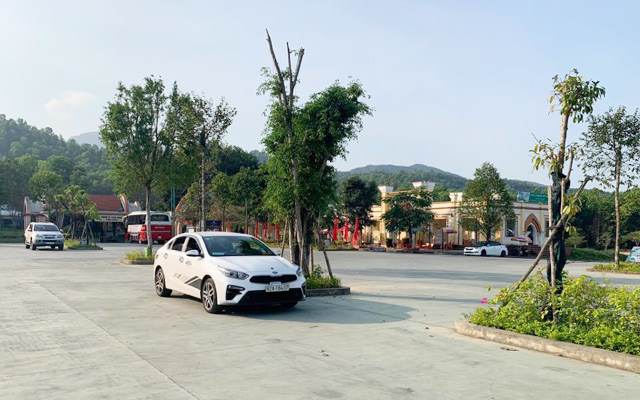 Cost for a 4-seater ride: VND 350,000 / 1-way. Or VND 650,000 including waiting for transportation to Danang.
View more:
Ba Na Hills travel experience by motorbike
If you are young, energetic and like to travel in the form of backpacking, want to check-in your favorite places, motorbike is the number 1 choice.
The cost of renting a motorbike is lower than the two types of vehicles. But it must be determined that on the way can be affected by the weather and slightly exhausting. The road to Ba Na is quite wide and beautiful, ensuring safety when running.
The price of renting a motorbike in Da Nang is only 100,000 – 150,000 VND / day depending on the type of car you rent. You can rent a car at motorbike rental stores or hotels that also offer this service. Remember to check the car thoroughly, fill up with gasoline before starting.
Experience Ba Na Hills travel by car transplant tour
You may not know, but in addition to traveling to Ba Na is self-sufficient, many tourists choose to take the tour. Instant registration for Ba Na Hills 1 day tour from travel agencies.
This way you do not need to search for transport but there are cars traveling by the company to pick you up at hotels or meeting places in the city so it is quite convenient.
Ba Na Hills travel experience is self-sufficient to update the latest ticket prices in 2020
How much does Ba Na Hills cable car ticket 2020 cost?
Surely, there will be people who wonder how much Ba Na fare, especially those who are far away for the first time to Danang.
In the self-sufficient travel experience Ba Na Hills this time I would like to update it too.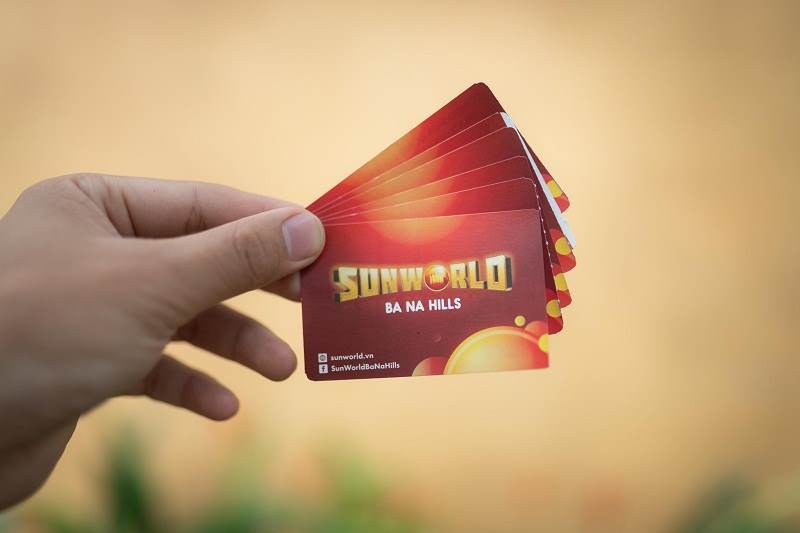 According to the latest regulation of Sun World Ba Na Hills, since January 20, the cable car fare has been adjusted. Specific rates are applied as follows:
Foreign fares: Adults: 750,000 VND / person. Children (1m – 1.3m): VND 600,000 / person. Children under 1m: FREE.
Ticket price for Danang: Adults: 450,000 VND / person. Children (1m – 1.3m): VND 350,000 / person. Children under 1 m: FREE.
Note:
Tickets are included free of charge for most games in the Fantasy Park, except for stuffed animals, skill games and the upcoming Museum.
The price includes the service fee to visit most of the tourist attractions such as mountain climbing train, visiting 9 flower gardens, Debay wine cellar, Golden Bridge, French village…
Where to travel to Ba Na Hills to buy cable car tickets?
It is not difficult if you want to buy Ba Na cable car tickets. You can come directly at the resort entrance to the ticket counter or order online on the Ba Na website. You can also buy in dealers in the city of Da Nang. However, remember that the ticket price is only valid for use during the day.
Alternatively, you can contact Mr Khanh, Phone number: 0919 57 45 45 for assistance with booking. This party often sells tickets at discounted prices, moreover, it also guarantees credibility. Or if you do not register to Ba Na tour for 1 day, you will be party to the company package from cable tickets to shuttle, meals, guides…
Ba Na Hills travel experience – Featured places to visit
Actually, to list all the points in Ba Na tourist area is very difficult because it is too wide and there are too many attractions. I just listed the places that follow me are the most prominent that you should not miss when coming here:
Suoi Mo: Suoi Mo is one of the most attractive destinations in Ba Na Hills in the summer, when the weather is hot and people want to find cool places to enjoy. Suoi Mo is originated from the underground water flow during 4 seasons, the two sides of the stream are steep cliffs with many overgrown grasses, in addition to a cascade strip creating a fresh space, close to nature, feels very refreshing.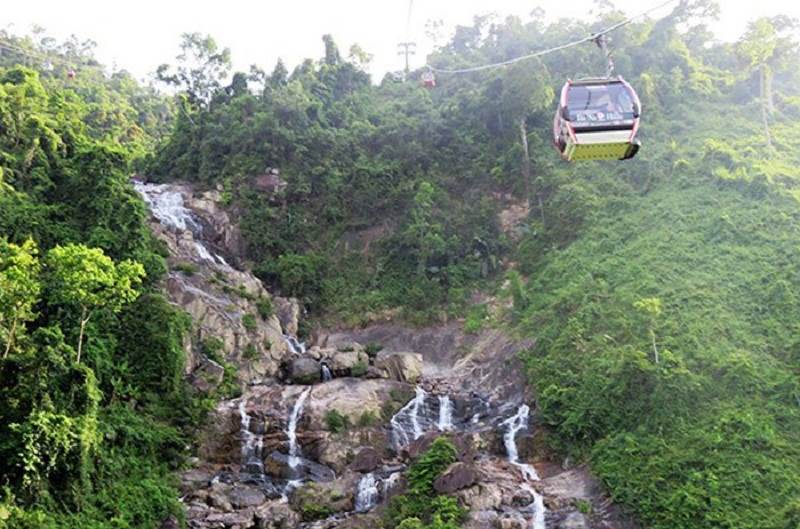 Ba Na Hills Cable Car: One of the most special experiences that visitors coming to Ba Na Hills always wants to try is the cable car, watching the primeval mountain scenery in the air, this helps you feel comfortable. enjoy and enjoy, relieve stress, stress in life and work. Sitting on the cable car, you can admire the primeval forests below, the white foam waterfall and the beautiful beaches of Da Nang or even Cu Lao Cham..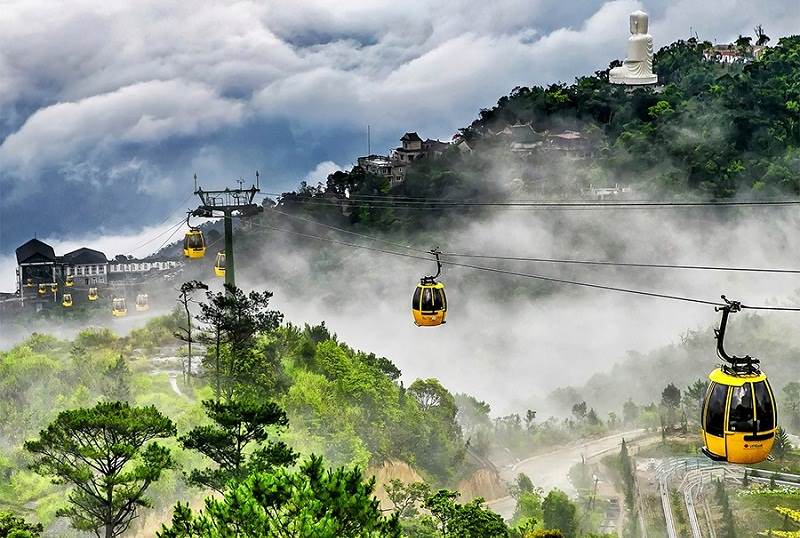 Ba Na Hills Cable Car is more than 1000m long, can carry more than 300 people / hour with 16 most modern cabins in Southeast Asia, taking visitors from Vong Nguyet hill, Cui Mountain, Opera House, Rainbow waterfall , Linh Ung Pagoda see the 27m high Buddha image.
Fantasy Park: This is known as the largest indoor amusement park in Vietnam. The park has more than 100 games from the light feeling to the thrills such as roller coasters, free-falling towers, artificial climbing, spooky forests, dinosaur parks, … for you to experience.
Especially, the games are completely free, except for skill games, picking up stuffed animals.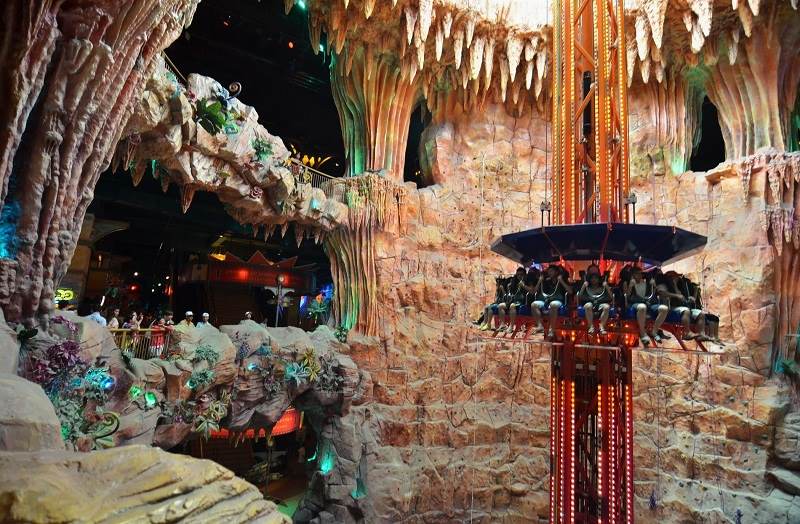 Le Jardin Flower Garden D'Amour: The flower garden may be the first place that everyone visits when visiting Ba Na. The flower garden is divided into 9 small gardens, each of which is a theme where there are many species of flowers of all colors. Surely you will enjoy immediately and do not forget to save the romantic moments.
Museum of wax statues: You have idols of famous figures in the world such as US President Barack Obama, actors Taylor with, Jackie Chan, Hoang Anh family, … If so, do not miss the Wax Museum. It shows more than 40 wax figures, imitating the images of these characters as subtly as real people. However, if you want to visit you have to spend an additional 150,000 VND / adult.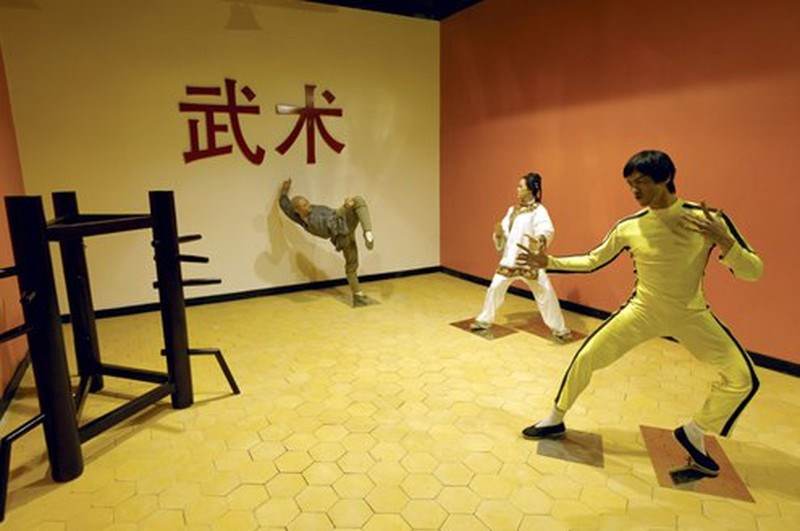 Ba Chua Thuong Ngan Temple & Linh Ung Pagoda: These are 2 spiritual places in Ba Na Hills you can come here and burn incense for good luck and peace for your family. Especially also admire the huge Buddha Tathagata.
Golden Bridge: These are starting to be ranked as famous bridges in Danang. Since the introduction and introduction, up to now the bridge has always been the most attractive center for visitors to Ba Na. The image of a gilded bridge supported by gray moss-like hands across the middle of the mountain looks incredibly magical. Standing here to check-in "live virtual" or sightseeing must be said above all great.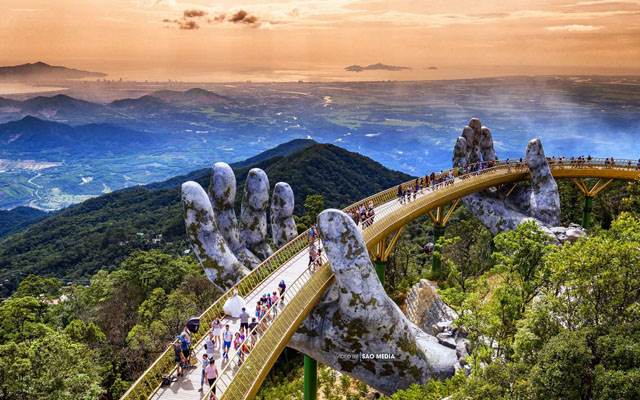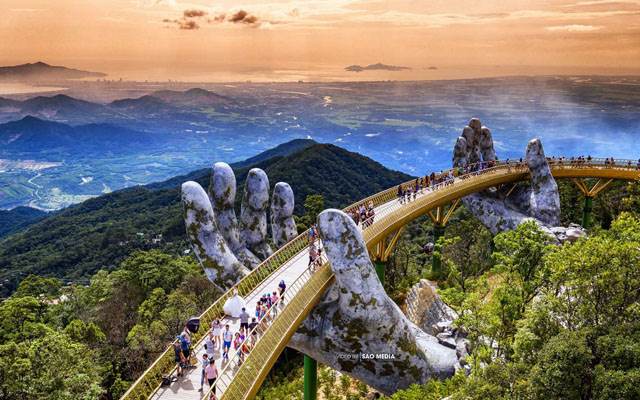 Debay Wine Cellar: This wine cellar is located in the heart of Mount Chua by the French to display and preserve precious wines in the world. The temperature in this cellar is always at 15 – 20 degrees Celsius, so it always ensures the deliciousness of the wine. Visiting you also have the opportunity to sample the fine wine in the bar area.
French Village: You can come here to visit the check-in, French Village can say is a place with many impressions because of both ancient and romantic features. Coming here, you will feel like you are lost in the world of miniature Europe with squares, villages, churches, … all bring a mysterious gray-brown color. Just stroll around you have "won" thousands of shimmering pictures.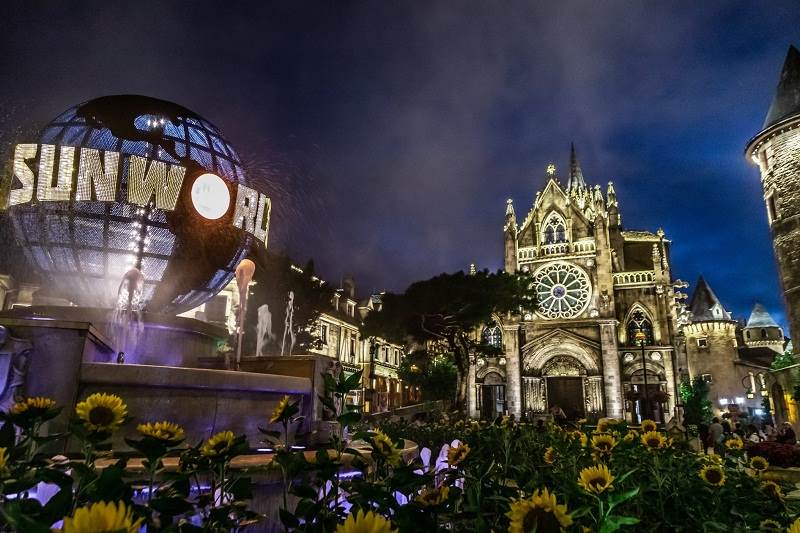 Travel experience What does Ba Na Hills eat and where?
According to Ba Na Hills travel experience from A to Z, I am known. Since August 2018, Ba Na has not allowed tourists to bring food and drink to the mountains.
This will affect environmental sanitation and surrounding landscape. Therefore, if there is a need to eat and drink, you can choose one of two ways:
Tourism Ba Na Hills eats at the stalls around the resort
Around the resort there are many stalls and small shops selling dishes such as chips, dumplings, donuts, fritters, ice cream, drinks of all kinds, … with prices from 50,000 to 100,000 VND / piece.
The price in my opinion is 3 times higher, brocade 4 times higher than normal but compared to eating in a restaurant, this way will save you a cost. However, it is not full, it is only for "lining".
Tourism Ba Na Hills eat at restaurants in the French village
In Ba Na Hills, there are many restaurants in different cuisines. You can choose to eat buffet at 8 restaurants in Ba Na Hills with the price of 195,000 to 250,000 VND / person.
Or order buffet according to the restaurant menu, but if you order the food you like, the price will be higher. In return, you will be able to eat what you like, will have a great culinary experience after the trip.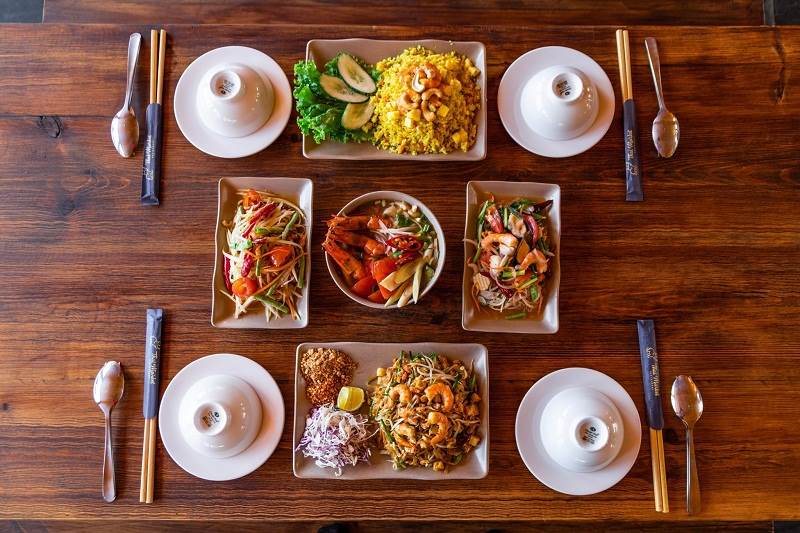 Experience Ba Na Hills self-sufficient travel should bring what?
In many other travel experiences as well as the cheap one-day Ba Na Hills travel experience in Da Nang, you should pay attention to bring the following items:
Identity papers such as identity card or passport, birth certificate (children), etc.
Warm weather because of the weather in Ba Na Hills as I said above if you intend to stay overnight. Besides, don't forget to bring a hat, an umbrella to cover the sun and prevent the sudden purchase.
Abdominal pain medicine, headache…
To be able to save those beautiful and memorable moments, do not forget to bring a phone or camera full of batteries, sticks "selfie"…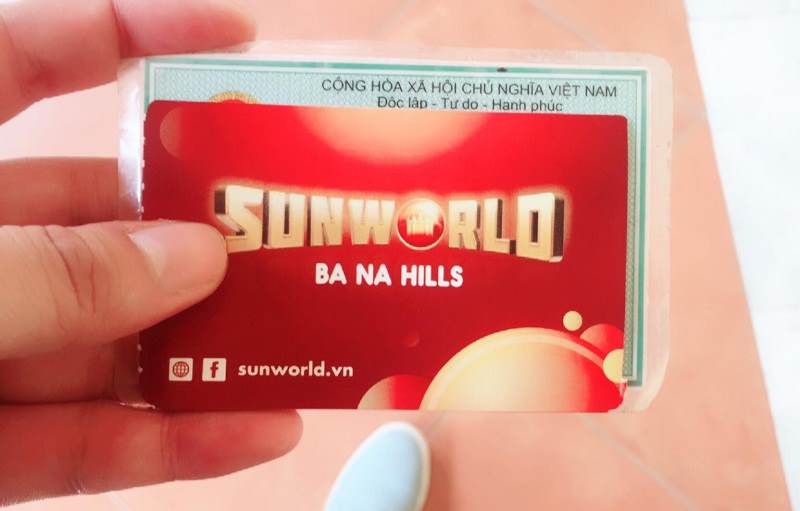 Ba Na Hill travel experience self-sufficient and necessary notes
Cable car tickets include both stage 1 and stage 2, you should note the operating time of the cable to avoid waiting time. The first trip starts at 7:30 and the last trip to the mountain is at 9pm.
Ba Na hotels often have very high prices, whether in high season or low season. Ideally, you should only go back in the day to save money and have time to explore Danang at night.
Usually it takes about 6 hours to explore Ba Na, you should leave early to buy tickets, without waiting in line.
For the best, you should book a tour to Ba Na Hill from Da Nang. There is a guide to guide and take care of everything. This is my advice and the choice is yours.
Ba Na Hills tourist area has a lot of spiritual values ​​and natural values, so the conservation and attention to the diversity of species of plants and animals is extremely necessary, especially rare species. listed in the Vietnam Red Book.
Hopefully, with the information in this self-sufficient Ba Na Hills travel experience will help you gain more knowledge about this resort and schedule a visit to this place in the shortest time.