Taxis are quite popular nowadays in all provinces and cities nationwide. However, many people as well as tourists in Da Nang do not know the information and phone numbers of Da Nang taxi companies circulating in the city. The following is a summary of information about contact and price of Da Nang taxi of safe and reputable Taxi companies in Da Nang for you to refer.
Which Da Nang Taxi company should choose?
When traveling anywhere you will often be passive in the problem of moving to places far away from where you stay and Taxi can be said as the most popular mode of transportation chosen by most travelers to Da Nang .
Da Nang currently has 7 major taxi companies, namely Mai Linh Taxi, Tien Sa taxi, Vinasun Green taxi, Aviation taxi – Airport taxi, Song Han taxi, Datranco taxi – Dana taxi, Huong Lua taxi … Of which 3 taxi companies are Mai Linh , Taxi VinaSun Green and Tien Sa taxi are 3 biggest taxi companies.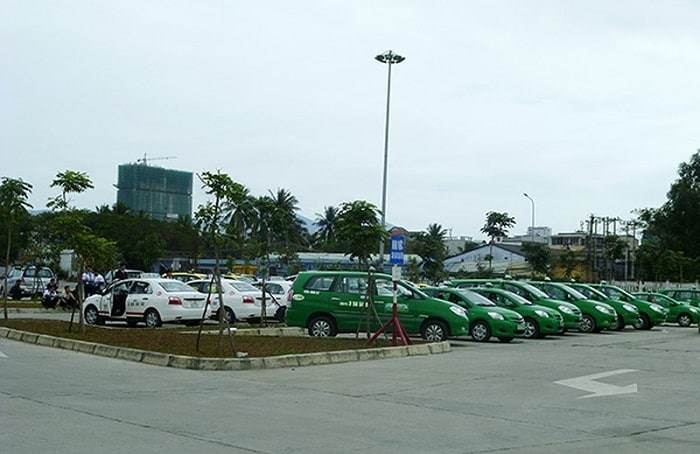 Currently, the network of taxi companies is becoming more and more developed, investing more in the number of vehicles, so you can easily catch taxis in most places in the city such as airports, houses. railway stations, bus stations, hotels, shopping centers …
With a team of well-trained drivers, always happy, enthusiastic to welcome guests as well as guide you specifically about tourist attractions. Above all, Da Nang taxi companies are always committed to going the right way, the right place where customers want to go. Therefore, people and tourists to Da Nang can be assured of the status of going around and then being "hacked" towering taxi fare.
Taxi price in Danang
These taxi companies in Danang specialize in serving passengers with 2 main cars: 4 seats and 7 seats, with an average price of 12,000 – 17,000 VND / km depending on the vehicle. Different car companies will also have different taxi rates and each company also has different pricing policies.
You can track the price list of Da Nang taxi listed below to choose the most suitable price for your pocket: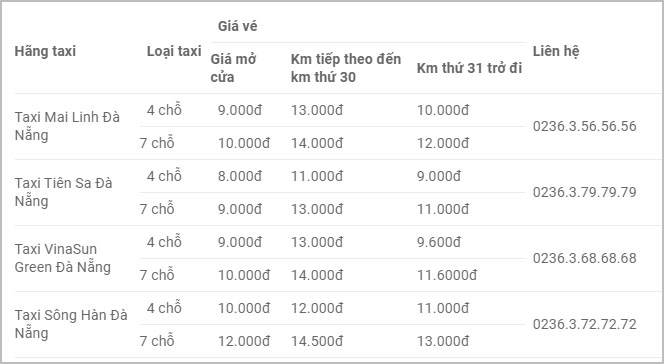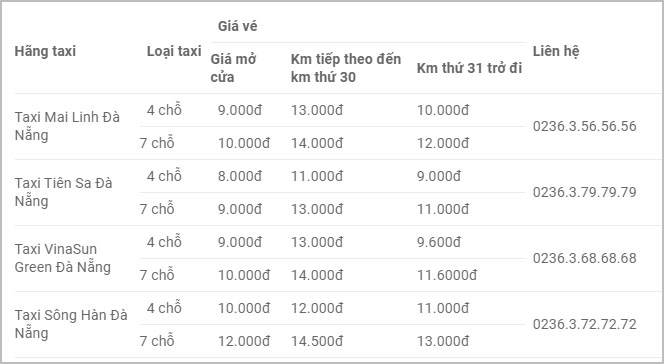 If you want to catch a taxi to move around Danang, Tien Sa taxi is the most suitable choice. Compared with the two taxi companies Mai Linh Da Nang and VinaSun Green taxi, Tien Sa taxi has not much difference in service quality but the price is significantly cheaper.
In addition, Tien Sa taxi is the first taxi company to provide free wifi in Da Nang, so passengers can easily search for famous places as well as supervise their travel.
View more:
The convenience of choosing a taxi to travel, explore Danang
Coming to Da Nang, you can easily catch any Da Nang taxi companies on the road and above all, this vehicle is gradually becoming familiar, popular with many indigenous people and tourists traveling with convenience. which many other media do not have:
+ Fast, convenient, popular, easy to take place. No need for a smartphone, just a regular phone, press the call center of the taxi company you want to go, just your location and after 3-5 minutes there will be a car to your door.
+ Not afraid of getting lost because a driver has taken you. If you are visiting Da Nang for the first time to go on business trips, sign contracts, meet customers or travel but are not fluent in the roads, afraid of losing time to ask for directions, taxis with "native" drivers here will take you wherever you want.
+ Comfortable sightseeing and entertainment right on the car. Moreover, it is also possible to avoid the outdoor heat, especially at noon. Or avoid rain during the rainy season.
+ Currently, in addition to genuine Da Nang taxi companies, you can choose a taxi through the Grab app.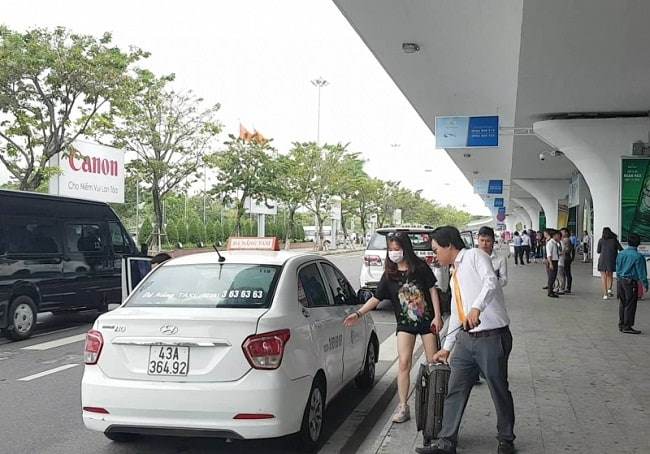 In addition to cheap Da Nang taxi, you can also choose many other forms of transportation when traveling in Da Nang such as booking Grap car, motorbike, bus, cyclo, bicycle, or even go. the set.
If you are young, like the feeling of adventure, explore and also want to save a fee on the move, motorcycle is the appropriate choice. If you do not have a car, you can choose to rent a motorbike in Da Nang. Like the current taxi in Da Nang, there are many motorbike rental services with a variety of vehicles from cars, scooters to scooters so you can easily choose a car that you like to accompany trip.
Other transportation in Danang
The motorbike rental services in Da Nang are free to take place, support helmets, raincoats, …. and support the car rental when problems occur during the rental process so you can feel secure offline!
Above is some information about Danang taxi prices, hope that this information is useful for you, help your travel, business trip to this beautiful coastal city more convenient.