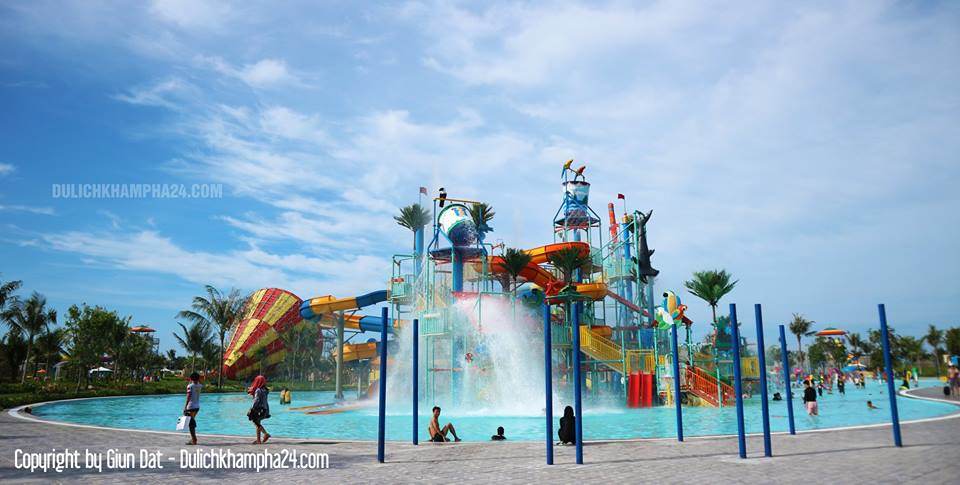 Tourism Vinpearl Land Nam Hoi An is a brand new location of Quang Nam – Hoi An. With a great investment, it is probably just behind Ba Na Hills tourist area. With the combination of amusement parks, shopping tours, it creates a package of tourist packages that promises to help people feel here.
The experience of Vinpearl Land Nam Hoi An tourism is not self-sufficient at present, so hopefully with the extremely detailed sharing, through your own experience in the recent visit to Vinpearl Land Nam Hoi An will help you. There are suitable options as well as good preparation for Da Nang – Hoi An travel self-sufficiency.
TRAVEL EXPERIENCE VINPEARL LAND NAM HOI AN 2020
Evaluate and feel about Vinpearl Land South Hoi An tourism.
To be honest with you, before I went to Vinpearl Land Nam Hoi An, I thought that there must be nothing here, there are games like a water park, just like the previous Spirit Mountain in the past. And then, everything was very surprising, when I was able to see and experience firsthand the activities at Vinpearl Land Nam Hoi An. Worth it, it is worth the money!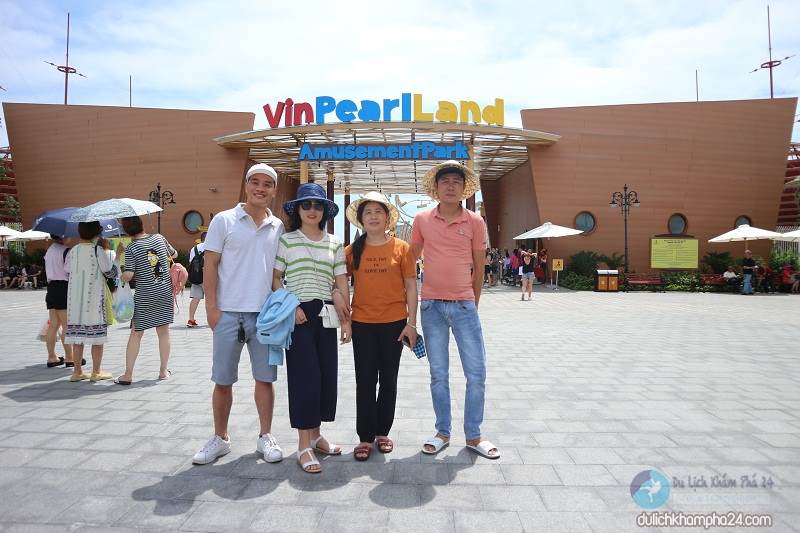 Of course, there are a few things I have not liked about this interesting tourist destination, such as dining, newly planted trees, so not much porn or no tram service to easily move here … I will share extremely See details below. But those are very small things, because I believe that soon, those things will be more complete !!!
NOTE: At the end of 2019, I was here again, I was really surprised because Vinpearl Land Nam Hoi An was almost completed. I scored from 6 to 9 in this visit. Now there is a buffet restaurant for everyone to choose and the trees here are much greener.
Refer to the article: Experiences of Da Nang tourism self-sufficiency 2020.
WHERE IS VINPEARL LAND TOURISM IN NAM HOI AN?
Vinpearl Nam Hoi An is located in the Vinpearl tourism, resort and entertainment complex of Vingroup. Vinpearl Land Nam Hoi An is an entertainment and cultural experience area and wild nature located in the south of Quang Nam province, about 45km from Da Nang city, about 15km from the ancient town of Hoi An.
This amusement park was newly opened on April 28, 2018 and is gradually becoming a must-visit place when traveling to Da Nang – Hoi An.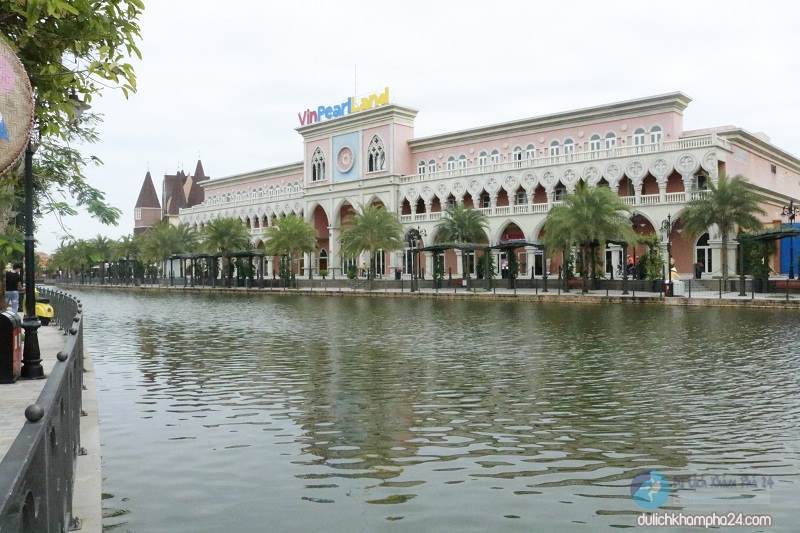 Tourism Vinpearl Land South Hoi An by what?
Getting to Vinpearl Land South Hoi An is now easy, whether you're traveling from Hoi An or Da Nang. The road has been made very nice and convenient. You can rent a motorbike, take a taxi, shuttle car or travel by bus FREE from Da Nang or Hoi An.
+ About shuttle: You can choose to ride a motorbike, car, taxi or rent a shuttle. However, if you go from Da Nang, the distance is also quite far, about 40km, should consider riding a motorbike.
see more:
+ FREE bus: From Da Nang, they run 5 trips per day from 8 am to 5 pm, at 5 points along the route from Da Nang to Vinpearl Land Nam Hoi An. From Hoi An, there are 6 flights per day from 8am to 8pm.
For details, please refer to the image below or contact directly via hotline 1900.6677, press 1 and 5.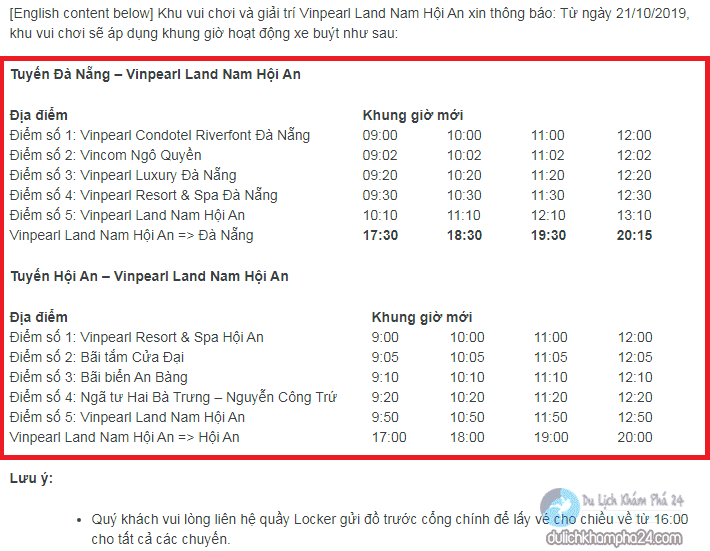 When should I travel to Vinpearl Land Nam Hoi An?
As well as sharing the weather and climate of Hoi An in the self-sufficient travel experience of Hoi An, this place is divided into two seasons: dry and rainy seasons.
The rainy season lasts from September to the end of January, it rains a lot but is less affected by winter winds so these months are not too cold like the North.
The dry season lasts from February to August, the sun is quite sunny, the temperature is relatively high but fortunately quite close to the sea so it is less harsh than other provinces.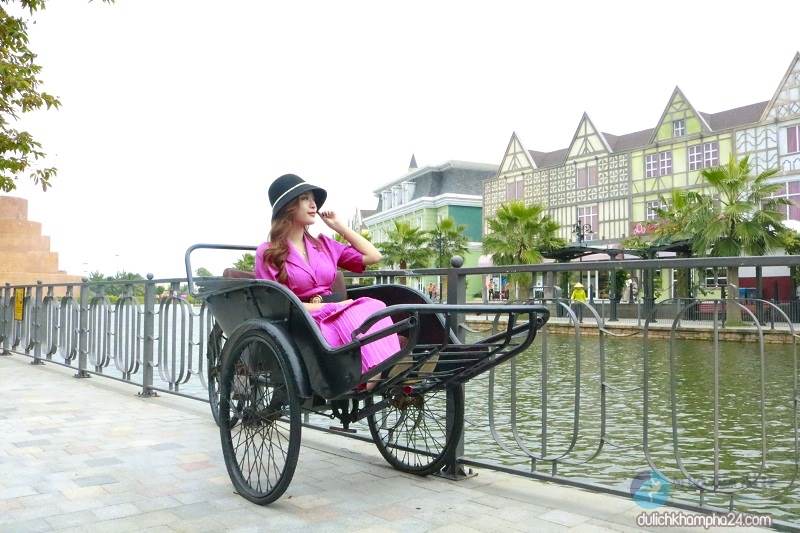 Talking about the appropriate time to go to Vinpearl Land Nam Hoi An, actually, it is also very difficult to say because going in the dry season, the sun is too playable, going the rainy season, the probability of a lot of rain is nowhere.
But with the type of weather in the Central region, the rainy season is rainy, sometimes storms, the most appropriate time to go is still the dry season, I think around March and April is the most beautiful. This time also ended storms, little rain, the weather was not too hot, harsh as when stepping into the summer.
BACK: It's hard to say which period to go, because it's also bad luck about the weather for the day you went, so if you have booked a ticket, have already planned to go then you just go, depending on the weather situation, deploy accordingly. physical. Of course, because most of the fun activities at Vinpearl Land Nam Hoi An are outdoor (there is indoor playground but not large), it should be too heavy, you should consider choosing a more suitable location!
TICKETS AND OPENING TIME OF VINPEARL LAND NAM HOI AN?
Vinpearl Land South Hoi An ticket price
Vinpearl Land Nam Hoi An ticket price is also the package as many other amusement parks today. Compared to the large investment, I think Vinpearl Land Nam Hoi An fares are not expensive. Please refer below!!!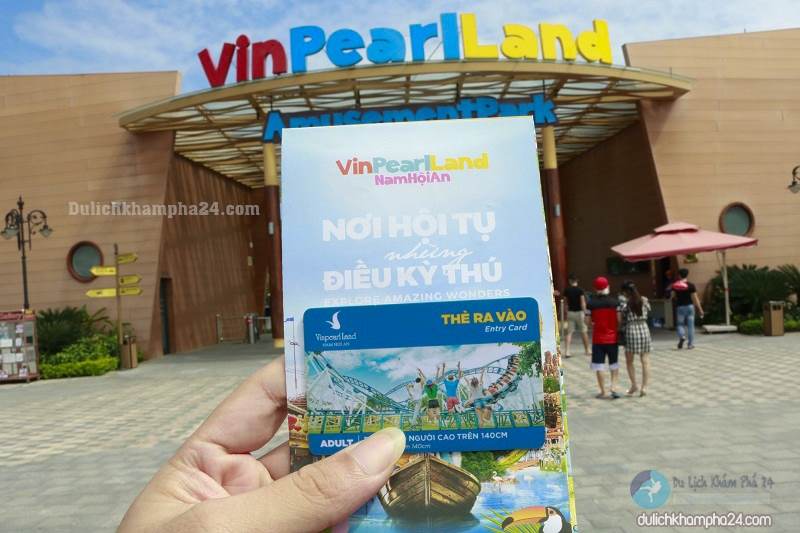 Ticket price Vinpearl Land Nam Hoi An STANDARD
Adult: 550k.
Children (from 1m-1m4): 450k.
Elderly (from 60 years old, bring identification): 400k
Vinpearl Land South Hoi An ticket price after 17h
Adults: 200k.
Children (from 1m-1m4): 100k.
Elderly (from 60 years old, bring identification): 100k.
Buffet ticket price Vinpearl Land Nam Hoi An
Adult: 288k.
Children (from 1m-1m4): 199k.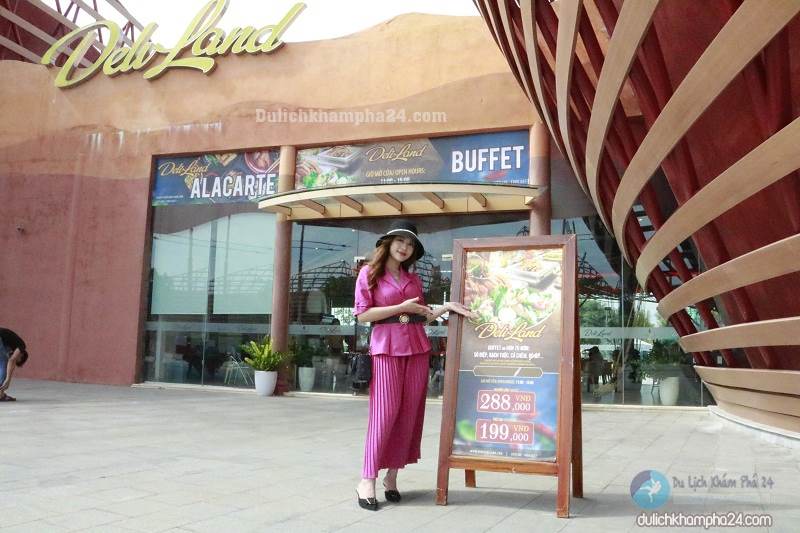 When to visit Vinpearl Land Nam Hoi An?
With the experience of traveling to Vinpearl Lan Nam Hoi An, I know that the opening hours are from 8:30 to 20:00 daily, including Saturday and Sunday. So, please arrange time to go with your family and friends to fully explore this popular tourist area in Da Nang Hoi An.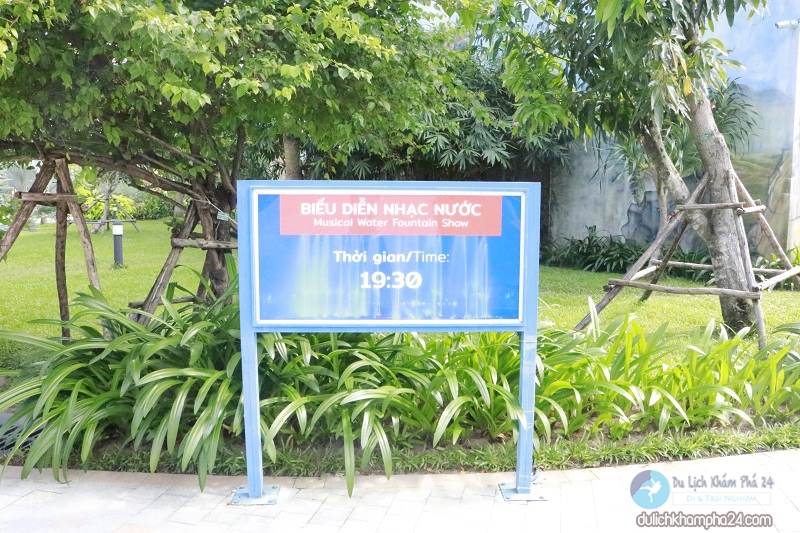 If you want to see folk performances or water music, it will take place at 19h30 very elaborate and beautiful.
VINPEARL LAND TOURISM IN NAM HOI AN IS WHAT TO PLAY, INTERESTING?
Basically, Vinpearl Land Nam Hoi An can be divided into 6 areas including outdoor play area, water park, folk island, zoo, harbor area and restaurant area. Below, I would like to share details about each area: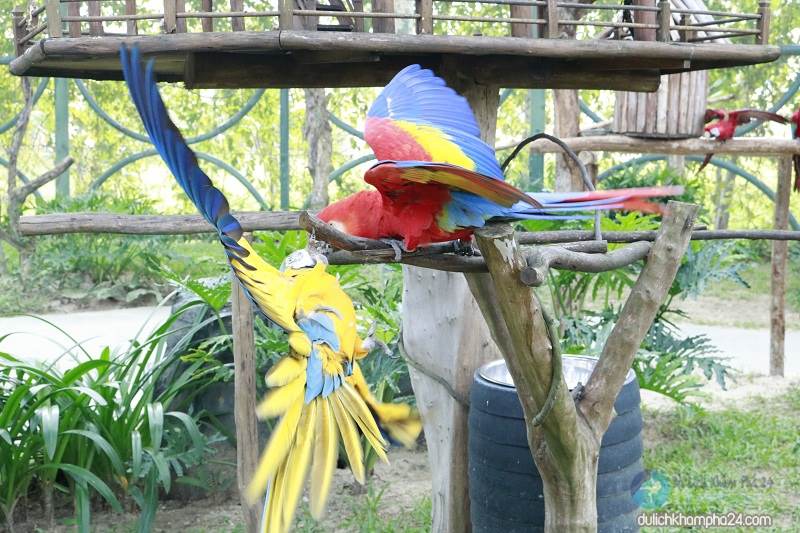 + Outdoor play area: This is one of the two areas that impressed me the most during my trip to Vinpearl Land Nam Hoi An. I absolutely love the adventurous games here like the fall of the century, the reverse world, the forgotten valley, the super speed rotation … especially the desert whirlwind game, I played up to 3 times with enough The position before, after, in the middle … is really great. Ha ha.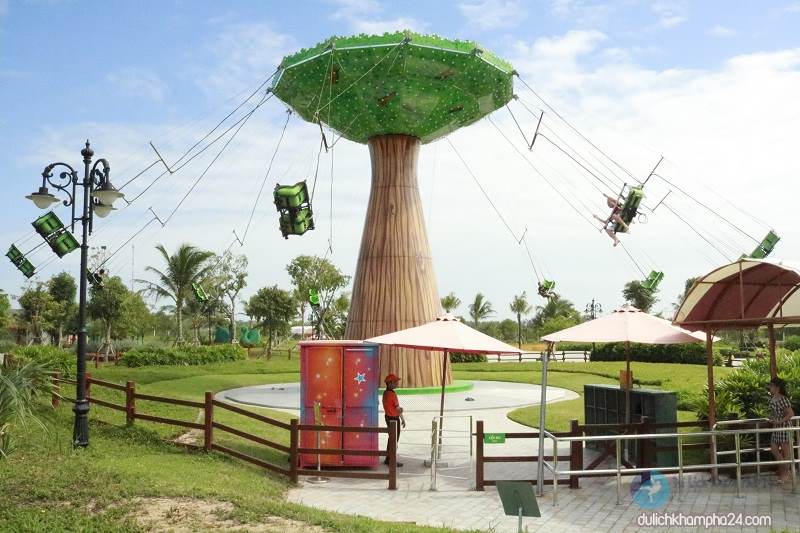 There are also many other adventure games you can "enjoy". Well, the game of the fall of the century is the game of free fall at the highest height in Vietnam right now, unfortunately it only dropped one, not up and down like the free fall tower game in Ba Na Hills. But also extremely rewarding.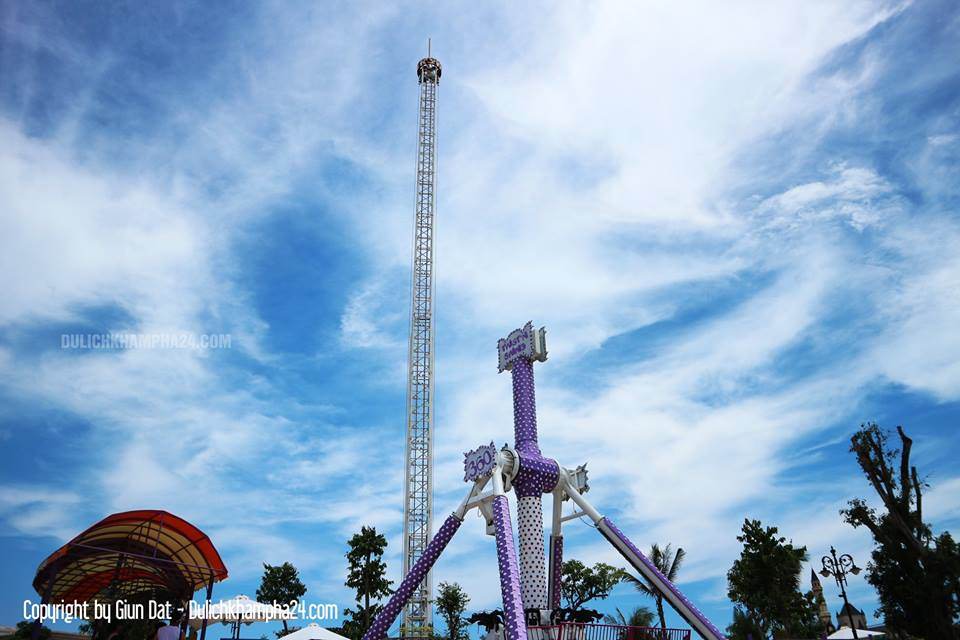 There is a point that Vinpearl Land Nam Hoi An is very skillful and psychologically parallel to a lot of adventure games for young people, they also put a lot, a lot of games for children in the outdoor play area. , very much always. Therefore, if you have children, come here and spoil the baby "naughty".
+ Water Park: This is also an area that makes me feel extremely surprised and stunned because there are very, very many interesting games. Games for young people, for the elderly and for children, but for a young person like me, adventure games are still more attractive, full of super games. Whirlwind slopes, super-basins, boomerangs, rainbows, super-speed, dragons are the must-try games you must try.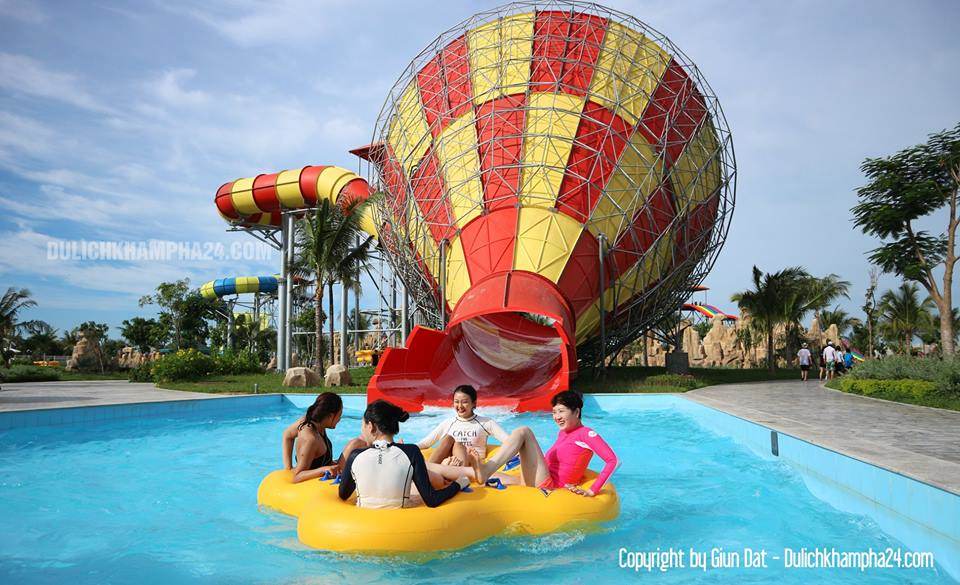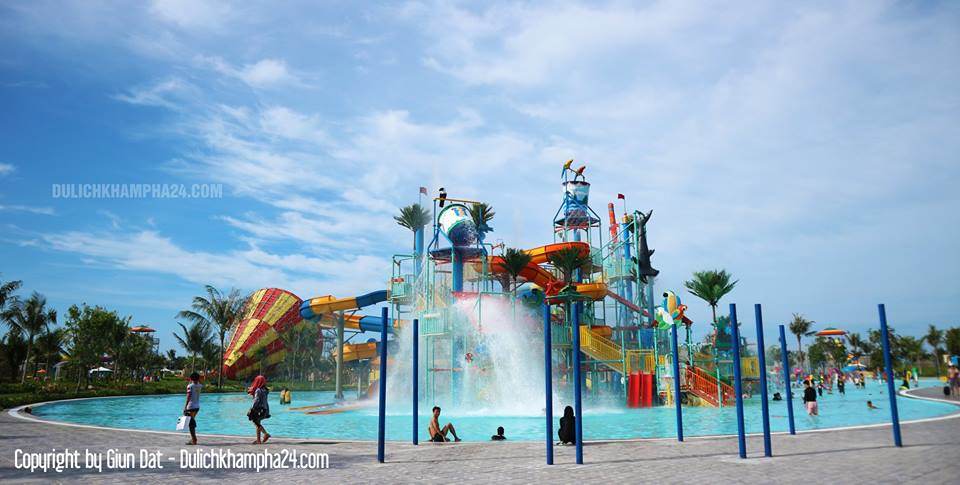 NOTE: All these games require swimwear, so be sure to pay attention to clothing. In addition, there are games that require both weight, so you remember to get fat and then the company will play this area.hihi. When bathing and playing games at the water park will not allow you to participate if you wear clothes with locks because sliding will easily cut into the legs. You should note that bring soft swimsuits to join the fun.
+ Harbor area: This is an area for young people who like to take photos and live "real". A place blending one side is ancient style, Hoi An style, one side is Western style but with beautiful castle.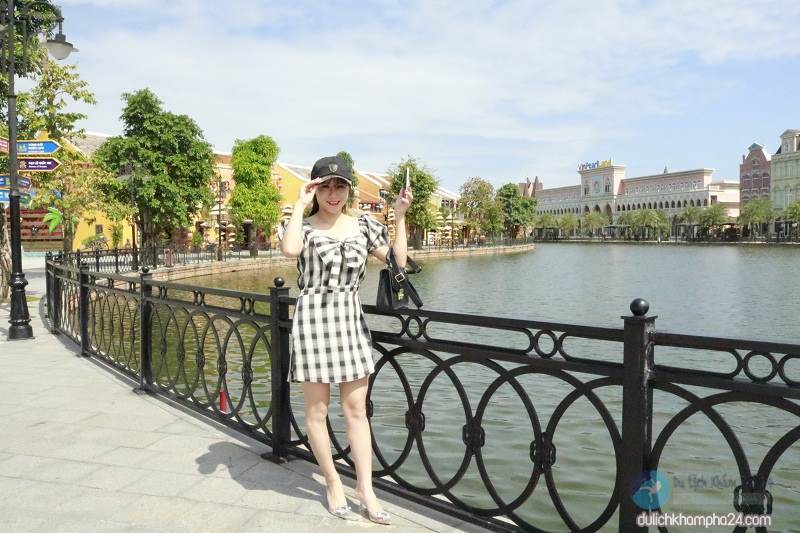 The right side (Western architecture) is the restaurant, indoor play area, watching movies 4D, 5D, when it is too sunny, you should visit this area to play.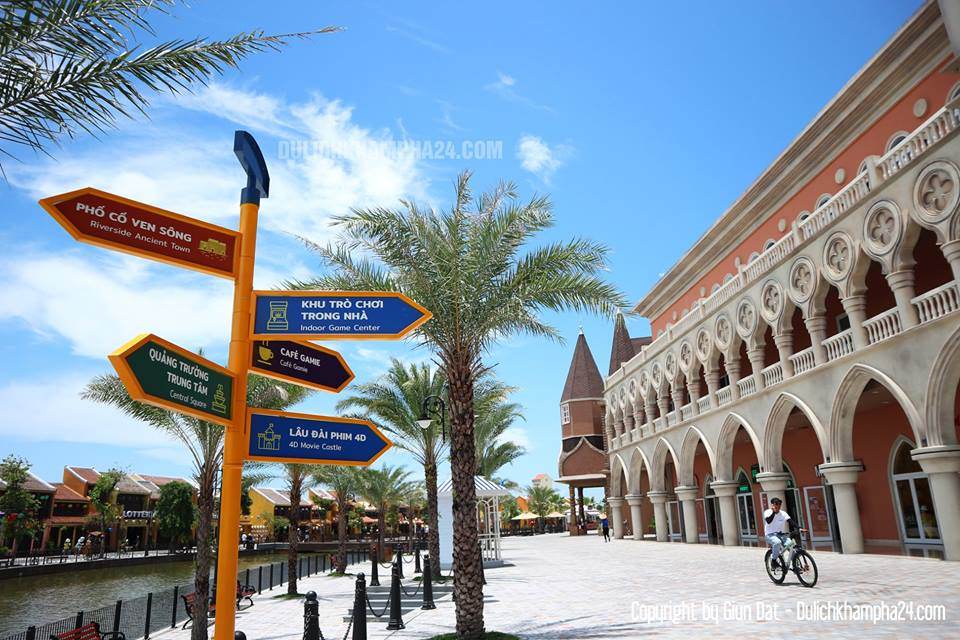 On the left, houses are designed in the shape of an old house, in order to describe the ancient character of Hoi An, along with souvenir shops, snack bars, and at the end there is a collection of 3D paintings. small again. In the middle is along the artificial river, running along from outside the gate, surrounding the whole island folk. In the evening, there is a music show.
+ Zoo: This is also a very interesting area you remember to visit. What impresses me most about this area is the light feeling when sitting on a boat, running along the second artificial river, to go sightseeing and learn about the animals. They are not only interesting to children but also very attractive to themselves by this experience.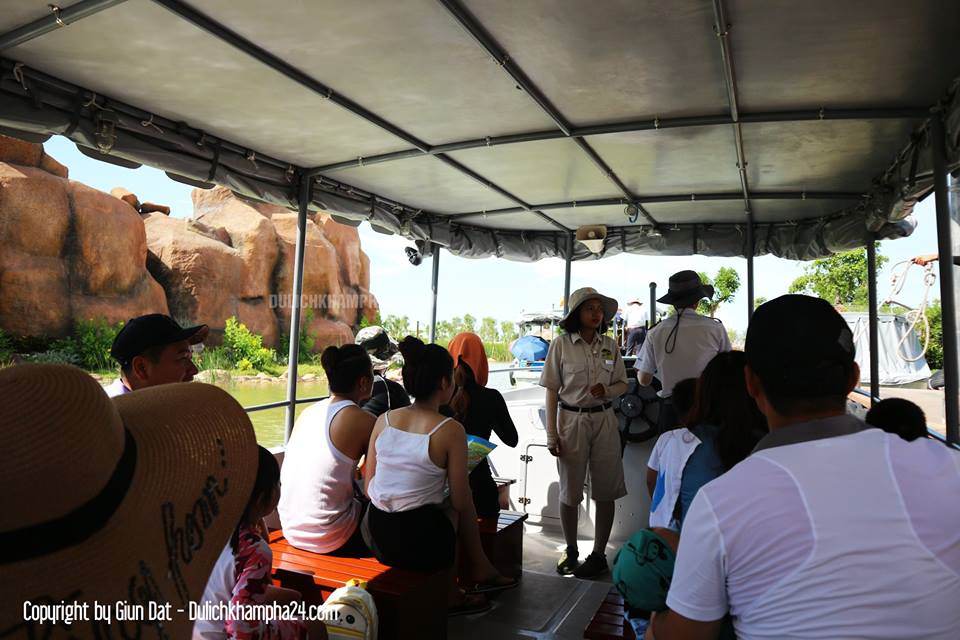 In addition to this activity, you can also visit the Parrot's house nearby to visit, take photos with parrots from many countries, with many different colors.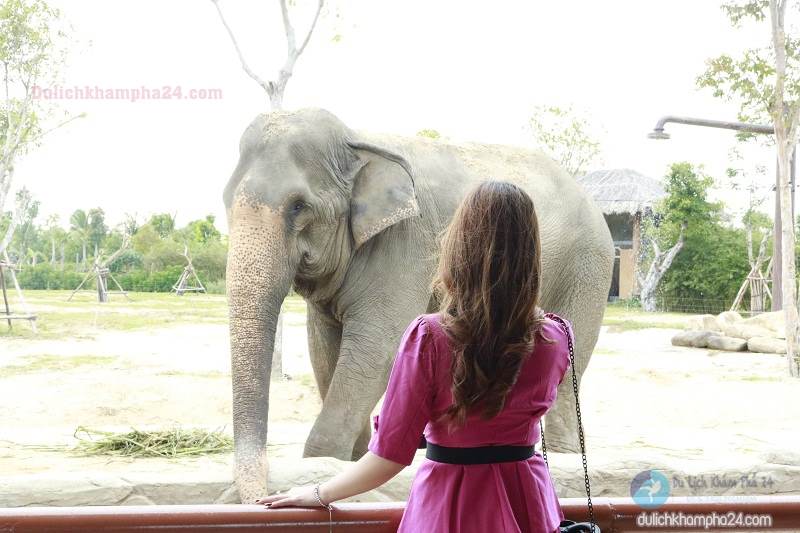 + Folk Island: An extremely meaningful area not only for Vietnamese but also for foreigners. A place to introduce and store unique architectural, cultural and artistic features of the country from the communal house, the water puppet show area, the traditional art performance area, the garden island, the highland residential area North…
They are suitable for people who love the traditional culture and art of Vietnam. And I believe, this is a favorite of older people.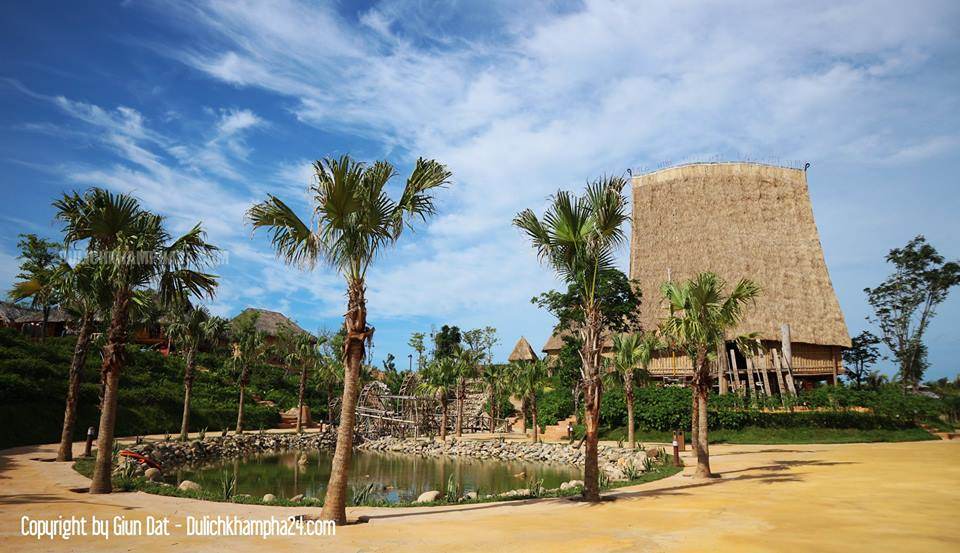 + Restaurant area: Unexpected and disappointing is my feelings about this area. I was surprised by the super-large, super-majestic boats located on both sides of the road from the entrance but really disappointed with the food here, very difficult to eat … but the price is not cheap at all. I still remember, in the afternoon I have scored 2 for this area when filling out the survey. Ideally, you should always buy tickets with Buffet or eat Western dishes at the shops in some castles, snacks at the shops on the left (the old houses).
NOTE: There are many companies that organize Vinpearl Hoi An Tours to eat at these restaurants to get cheap tours. Please ask carefully and should book the Vinpearl Land Nam Hoi An Tour with Buffet.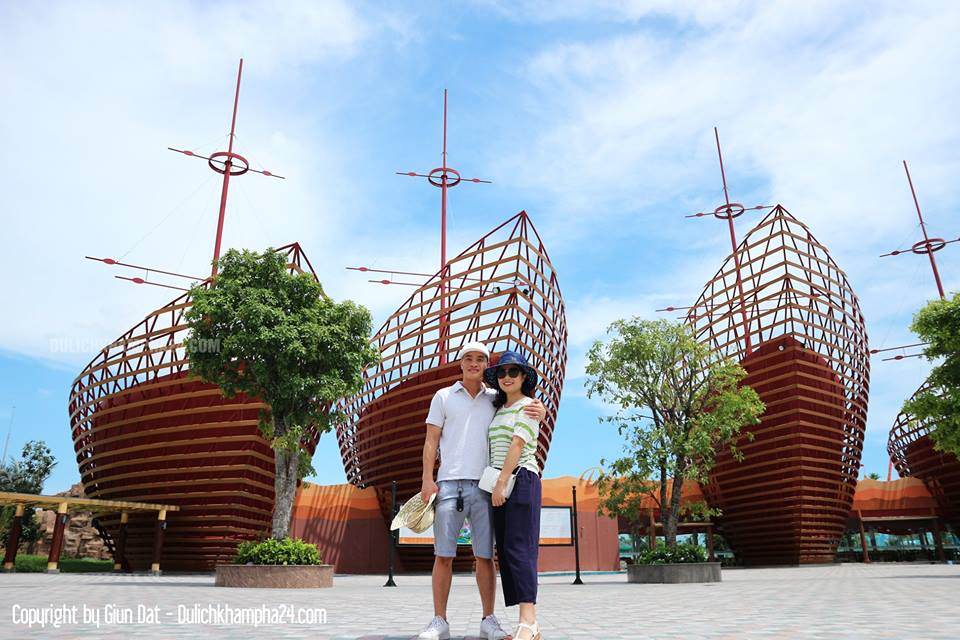 WHAT TO EAT VINPEARL LAND NAM HOI AN?
As I said above, this is a very bad point in Vinpearl Land Nam Hoi An but certainly they have to improve. If you ask Vinpearl Land Hoi An what to eat, here are some suggestions for you.
+ Do not bring food in: This is the latest regulation of Vinpearl Land Nam Hoi An. Therefore, it is best to always buy tickets including buffet.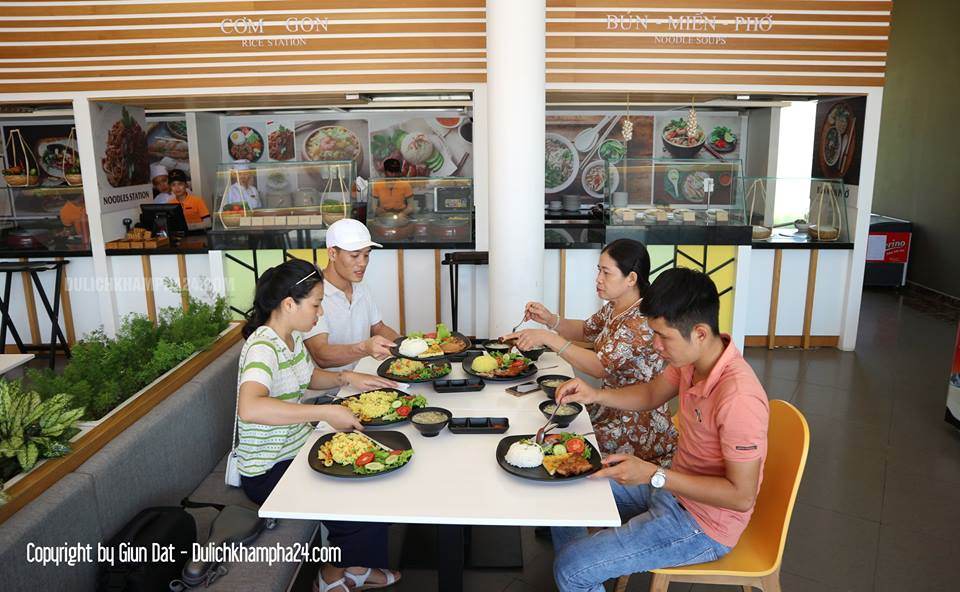 + European buffet at Deliland restaurant: This is new, starting from June 12, 2019. And this is also advice for you to choose but the food in some restaurants is not good.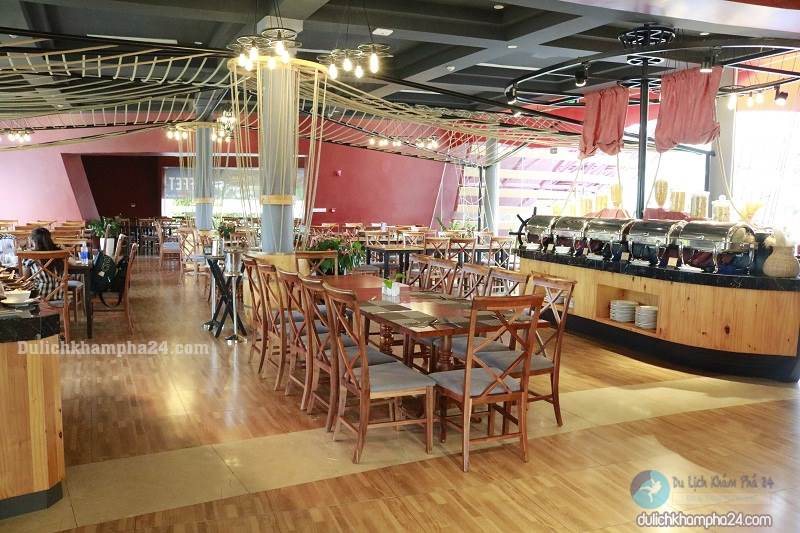 + Western food restaurant on the right side of artificial river: It seems like all Western food such as Pizza, cakes, drinking water, not much variety.
+ Lotte fast food restaurant: It is located on the left side of the artificial river, the old houses.
+ Convenience restaurants: Along the streets of Vinpearl Land Nam Hoi An tourist area, there are also many small convenient restaurants. This system helps people to buy food by themselves without having to return to the justice of Vinpearl.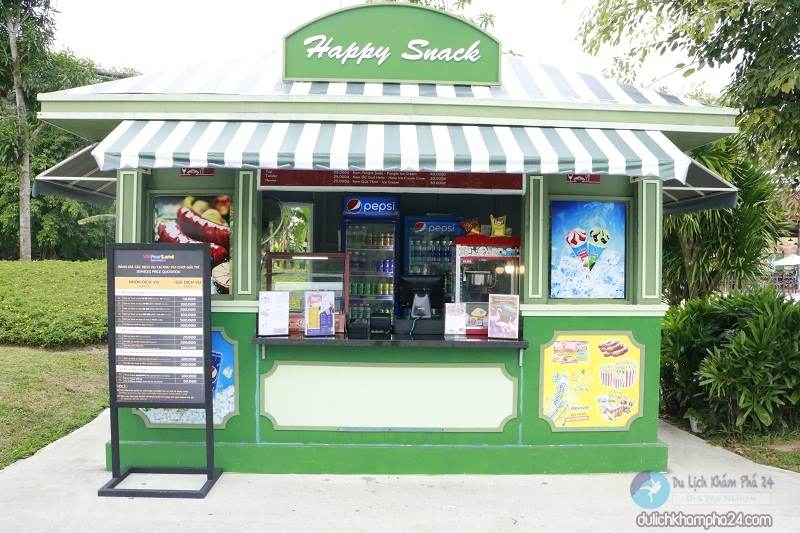 + Water dispenser: This one I saw all over Vinpearl Land Nam Hội An, all vending machines were available, almost everywhere, so rest assured not to be afraid to die of thirst.hi. Price is of course higher than outside but at an acceptable level, 15k spring water, 25k carbonated soft drink.
HINT SCHEDULE OF TRAVEL SCHEDULE VINPEARL LAND NAM HOI AN 1 DAY
This is difficult, because I don't know how accurate your age is to give an accurate suggestion. But basically, I see:
+ Children should play in outdoor play areas, indoors, water parks, zoos.
+ Older people should play in folk islands, zoos, water parks, indoor play areas.
+ Young people must be respected everywhere, I have youth and health. But never miss adventure games in the outdoor play area or the water park.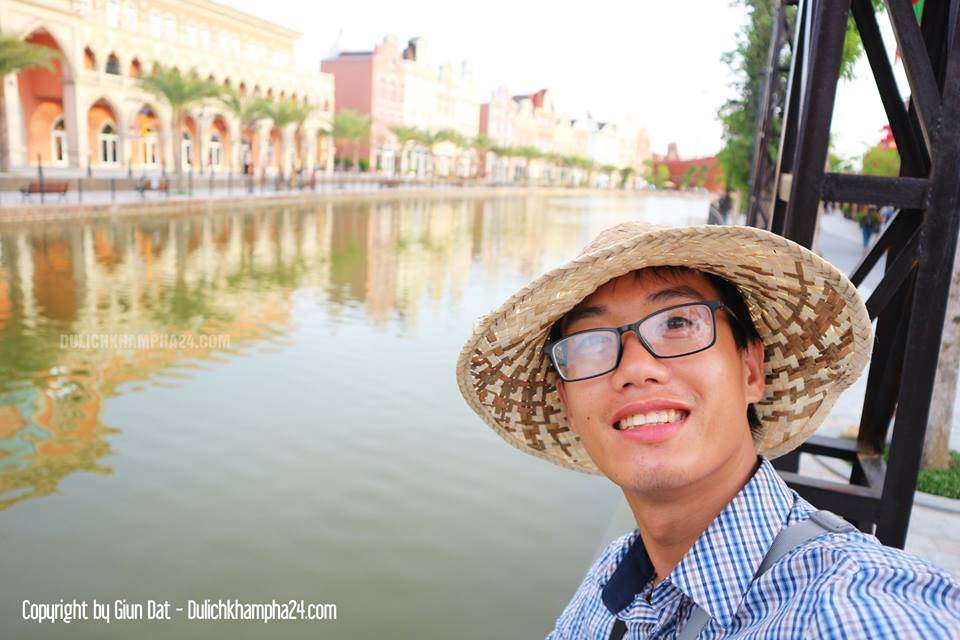 Here are suggestions for 1 day schedule to Vinpearl Land Nam Hoi An:
+ Morning: Take photos at the restaurant area and the harbor. Then play in the outdoor play area, bored or too sunny then run into the indoor play area, movies 4D, 5D.
+ Noon: Eat and rest then go to the folk island, the zoo to check in to explore.
+ Afternoon: Relax in the water park and thrilling tube skating games.
+ Evening: See the scenery, watch the music in the harbor area and the special folk performances in traditional villages.
EXPERIENCE AND NOTICE WHEN TRAVELING VINPEARL LAND NAM HOI AN
+ Know the schedule of Free shuttle bus from Da Nang or Hoi An to avoid waiting too long by only 5 trips a day. Also, get to the bus stop 15 minutes earlier to buy a ticket first, avoid having to wait for the next train.
+ Vinpearl Land South Hoi An's travel experience advises anyone with older people to go to buy a tram ticket at the gate to take a walk around. Because Vinpearl Land South Hoi An is very large. Tram tickets are not free to buy.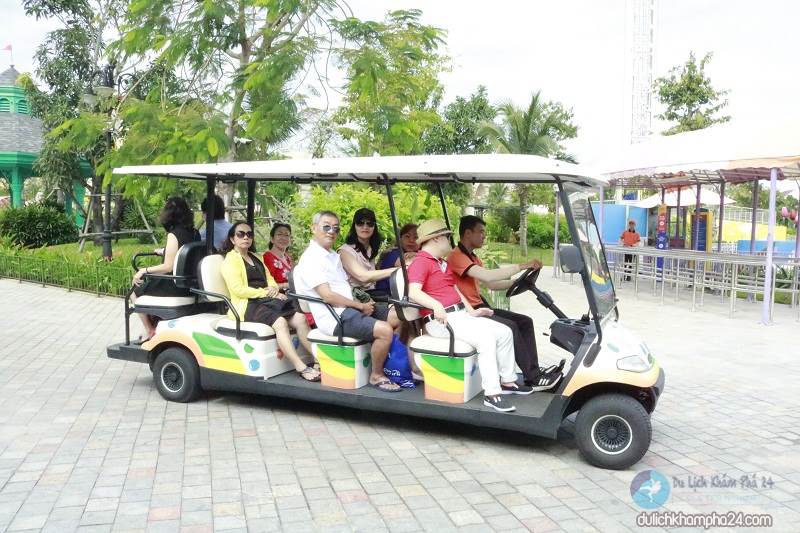 + Should buy the gate ticket with Buffet because the food in Vinpearl Nam Hoi An is very bad and expensive.
+ Remember to wear sunscreen, wide-brimmed hat, drinking water.
+ Many thrilling games as well as water parks are only open until 6pm so pay attention to play these games first.
Traveling to Vinpearl Land Nam Hoi An is an emerging destination, there are a lot of things worth exploring here but there are a few limitations to complete.
However, this is still a tourist destination you must definitely visit when traveling Da Nang – Hoi An !!! Come once, see and experience the interesting things at Vinpearl Land Nam Hoi An!
---
This article uses material from the website dulichkhampha24.com.
See the full version at: https://dulichkhampha24.com/kinh-nghiem-du-lich-vinpearl-land-nam-hoi-an.html