Experiences Travel Da Nang Self-sufficiency LOW PRICE should go 2020
Traveling Danang – Is this what you need?
By the true experience of myself, I will share to you Da Nang travel experience self-sufficient through the long day trip to early 2020.
During the recent trip to Da Nang, I saved all the travel schedules (attractive places, hotels, good restaurants, entertainment places …) with attractive prices. Especially this time I also experienced the reality of Da Nang tour service and rented a motorbike to go by myself.
You do not need to worry that traveling to Danang costs or how much money. Just read, save this post & go !!!
About people sharing "Da Nang tourism experience 2020"
– LATEST UPDATES IN MARCH 2020 –
I would like to introduce myself a bit before sharing with you my experiences when traveling to Da Nang self-sufficient. I'm Long, born and raised in Hung Yen. I really like traveling, taking photos, like to explore new places because of my passion. Want to share what I know, what I experience during my travel, to everyone who loves to travel, like to discover like me.
Da Nang is a city with lots of debt to me. When I first came to Da Nang in 2013, I was traveling on my own with my family. Back then, Da Nang was still very wild, not thriving like now. I was impressed with Danang by the "million dollar road", the road along the sea of ​​Vo Nguyen Giap – Hoang Sa, beautiful to bewitched … impressed by the kindness, meekness, goodness of the people here.
And my love for Danang starts from there. It was that love that drove me back to Danang so many times after!
However, it was not until 2015 that I had the opportunity to return to Da Nang, but since that year, I have come here every year, there have been five to three times in a row, but I have been self-sufficient to travel to Danang. Only at the beginning of this year 2020, I decided to come and stay in Da Nang for half a month with a close friend, to experience more tourist attractions, delicious food, especially to directly experience some tours. Da Nang tourism in the day.
I believe they are Da Nang travel experience essential for those who plan to travel independently and of course, I will share all the information for you in this article. Let's follow your discovery … Lets go!!!
WATCH THE GENERAL COLLECTION OF DA NANG EXPERIENCE
Experiences in tourism in Danang 2020 what do you need to prepare?
Below is information about things you should have prepared before traveling to Danang. Avoid shortcomings for a complete, fun vacation in this Vietnamese most livable city.
+ Summer beach outfits: Remember to bring swimsuits because My Khe beach is rated among the top 6 most attractive beaches on the planet. In addition, you also need to prepare more hats, umbrellas and sunscreen because the temperature here is quite hot.
+ Summer outfits: Active young people should wear neat and spacious clothes to unleash running. It is possible to bring ao dai to visit the ancient town of Hoi An and Hue. In addition, the girls also prepare more high heels, beautiful skirts to show off their designs in the evening in Da Nang.
+ Apparel when traveling in Da Nang winter: The central provinces when entering the period from October to February the weather is cold like the Northern provinces. And it often rains so dress warm clothes, umbrellas should be well prepared. At this time, the beach can't be swimming, so everyone should not bring swimsuits.
+ Items to bring: You need to calculate your expenses, medicines, medical bandages and full personal belongings. And next are suggestions for the best time to go to Da Nang.
Da Nang travel experience | When should and should not go to Danang?
Danang is located between the South and the North, so it is clearly influenced by both sides. Therefore, the climate of Danang divides into two distinct seasons: dry and rainy. Therefore, people have to calculate when Da Nang is the most beautiful and convenient for traveling. What time is not really convenient for travel, I will share immediately to help people have enough travel experience in Danang 2020.
Traveling Danang | The best time without rain?
The most suitable time to travel to Da Nang is from March to August. This time Da Nang enters the dry season with little rain, storms and clear skies, which is suitable for your trip. At this time, Da Nang temperature is quite high, tourism activities are more invested. Places to visit always organize festivals to attract tourists.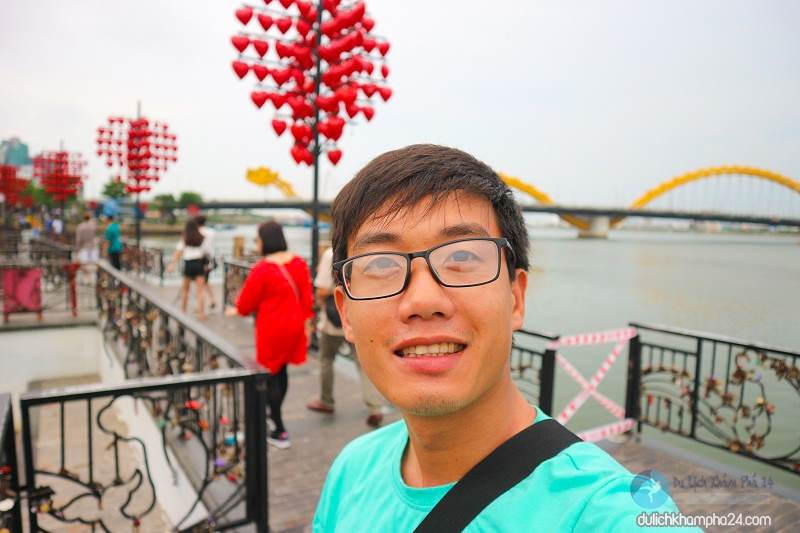 NOTE: Because this period of time is the most beautiful, so the service often increases prices. You should also carefully calculate the budget to match your existing economy. I tell you that you should go in March, 4 the weather is quite ideal but the service is still cheap. As of May 5,6,7,8, the service price has risen quite high. In September, October, the service has also reduced heat, but it often rains.
Traveling Danang | What time is not ideal or rainy?
According to Da Nang travel experience, I find that the period from October to February the weather here is not really ideal. At this time, Danang is heavily influenced by the north-eastern monsoon or rain and cold. Sometimes storms often make you do not go out much, do not swim and go to attractions like Cu Lao Cham, Bay Mau Coconut Forest…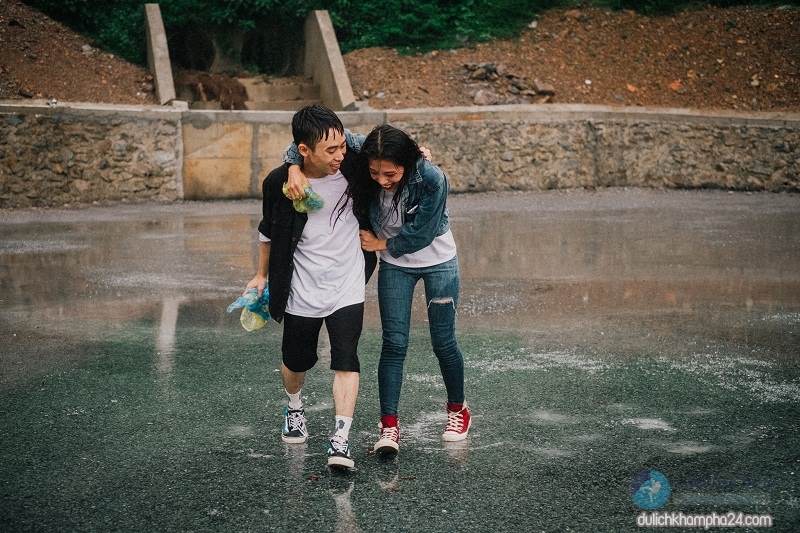 NOTE: In return, the travel service in Da Nang is very cheap at this time, suitable for young people who do not have much money. Newly married couples on a long honeymoon also choose this time to travel to Danang. Or those of you who do not like hustle and bustle, or yourself, have traveled Danang many times!
In order to have a complete fun trip, according to your self-sufficient travel experience in Danang, you will have to prepare a lot of things …? Here are two things you will surely be interested in, so refer to your trip first as a hotel to stay and transportation to and within Danang.
Da Nang travel experience | Choose a nice hotel, cheap, good location should stay?
Do not know what your hobbies are, but for me, when traveling to Da Nang, I choose a hotel near the sea. Why is that because the sea from the Han River is so close together, it's only about 2km. In the afternoon when swimming, you can walk in and out unlike the center you have to move by Taxi very sticky when sandy and salt water uncomfortable.
In addition, the sea area has many seafood restaurants, not too dusty and the climate is always fresh. In Danang, the hotel system is quite diverse from Homestay, 1,2,3-star hotel if you want to be more advanced, choose 4.5 stars to luxury Resort. Experiences in tourism in Da Nang, when I experience here, I would like to share with you about quality hotels, reasonable prices from 1 star to 3 stars.
Hotel information below are the hotels I have directly experienced in the coming to Da Nang. There are hotels I have stayed in for a while, some hotels have been there for a few times, even a hotel I've stayed there for a week to learn more about Danang tourism. We hope these experiences are helpful to you.
The first is the HOTEL I like most in the 3-STAR segment but the price is always PROMOTION cheaply!!!
+ DUONG GIA HOTEL HOTEL DANANG 3 STARS
This is the hotel I like the most and has stayed for half a month on a Da Nang tour in early 2020. Duong Gia Hotel is a 3-star standard close to the sea, opposite the East Sea Park where there are thousands of uncle. dove perched every afternoon.
A 5-minute drive from the city center around a lot of famous restaurants such as Tran cuisine 100 meters away, Be Baby seafood is 2 km away, Baby Seafood is 700m away, My Quang Frog is 300 meters away. like Son Tra Peninsula, 7km away, Hoi An and Ba Na Hills go straight for about 20 minutes. Dragon Bridge and Quay Bridge the next day the hotel is very convenient for travelers to stay here.
Duong Gia Hotel has just been opened, so the room is very new, clean and fully furnished. Being tiled with luxurious wooden floors, 3-star standard furniture is sure to satisfy the most difficult guests when staying here..
Address: Số 06 – 08 Phạm Thiều – P. An Hải Bắc – Sơn Trà District – Đà Nẵng.
Booking contact Hotline: 0983 728 286 – 0906 444 525.
Reception Department: 02363.727 286 – 02363.936 337.
Website: duonggiahotel.vn
VIDEO DUONG GIA DANANG HOTEL
Currently Duong Gia Hotel is applying a big promotion for customers only from 280k – 700k for each room type. Price does not include breakfast:
Room 1 beautiful bed for 2 people priced 280k / 1 day.
VIP 2-bed room for 4 people costing 400k / 1 day.
VIP apartment room for 4 people with 700k / 1-day stovetop kitchen.
With the price like that, I think you do not need to think much about the quality of the room and the location to visit. At Duong Gia Hotel also supports booking tours in Da Nang, renting motorbikes at definitely cheaper prices than many other hotels. This I guarantee, you can verify specific.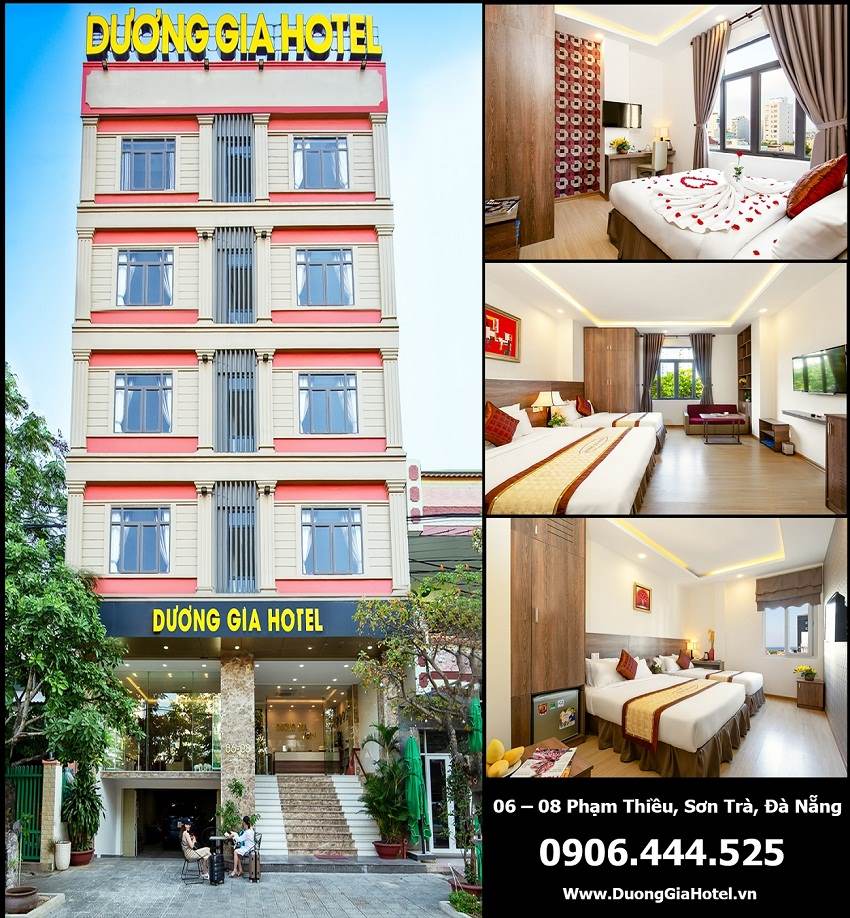 NEXT: These are hotels in the 2-STAR segment are also quite good and the price is also a bit cheaper than Duong Gia Hotel for those who have lower conditions of choice.
+ DUBAI DA NANG HOTEL 2 STARS
DuBai Hotel belongs to the 2 Star + standard segment and is also located near My Khe beach. BEAUTIFUL hotel fully equipped and very convenient to move and eat. The newly built DuBai Hotel in 2017 is very new and spacious, the staff is also funny and enthusiastic. The beach area in front of the hotel is also a bustling place with daily exciting entertainment activities.
Address: Số 66 -68 Phan Tôn – Phường Mỹ An – Ngũ Hành Sơn – Đà Nẵng.
Hotline: 0905 26 4444 – 0788 68 2222 – 0394 61 7777.
DUBAI HOTEL also regularly has 50% discount promotions for customers. Price does not include EATING.
Single room for 2 guests costs 220k / 1 day.
Double room for 4 guests cost 320k / 1 day.
Staff at DUBAI hotel are always happy to enthusiastically guide visitors to the most convenient tourist destinations. Book directly to the hotel to receive preferential rates exactly as above. DUBAI also offers motorbike rental to save you money.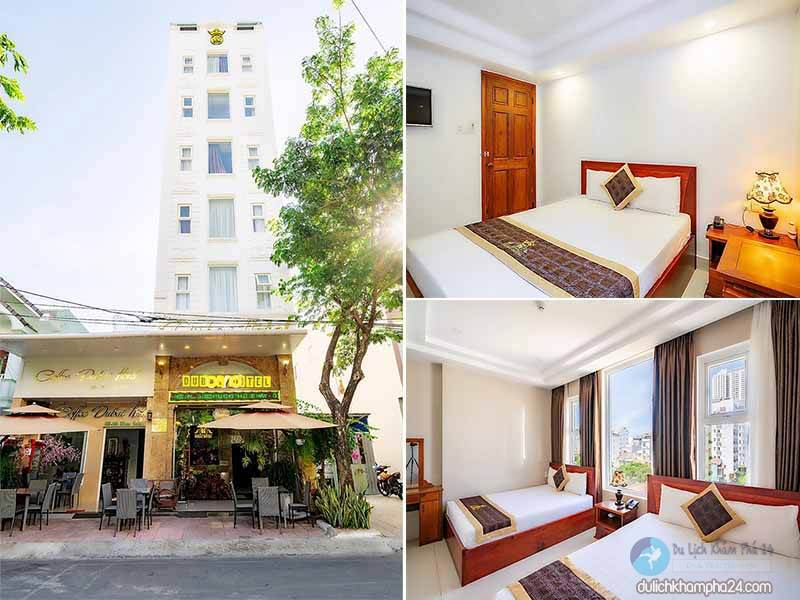 See more information about Du Bai hotel.
NOTE: Every year, Da Nang tourism organizes international fireworks activities, the number of visitors on the same day as the fireworks day increases suddenly, the hotel room price is usually double for weekdays. So if you do not pay attention to watching the fireworks, you should avoid traveling to Da Nang on these dates.hihi Usually you should book directly with the hotel will have many incentives such as room and main options cancellation policies and better service when booking online.
Da Nang travel experience | transportation to and from Danang
I would like to repeat once again to keep everyone from forgetting, Danang is located in the middle of the country. As a city with tourist attraction, transportation to Danang is extremely diverse. Which is very interesting in that, unlike other cities, the train station, bus station, and airport are all in the center. So extremely convenient for your trip to Danang city.
Experienced in traveling to Danang many times, I have also tried with all kinds of vehicles such as self-riding motorbikes, airplanes, trains … So I believe, the following sharing is very helpful for you.
Should choose which means to move to Da Nang?
+ PLANE: According to statistics, almost 70% of people choose to travel to Danang by this means. Airline service is now relatively cheap when tickets from Hanoi, Saigon to Da Nang cost from only VND 400,000 – 1,000,000 depending on the type and time. If you have planned to travel to Danang early, I recommend that you book tickets a month in advance will be very cheap and enjoy many incentives.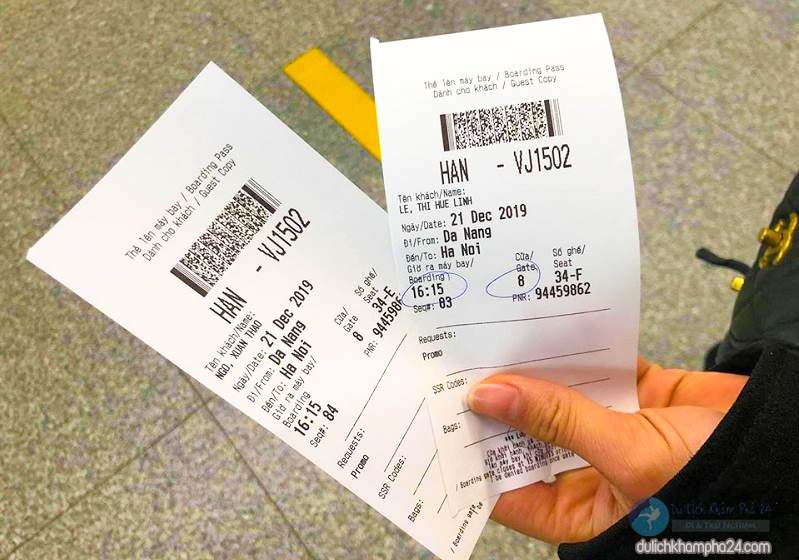 In addition to major airlines such as Vietnam Airlines, Jetstar or VietJet Air, Bamboo Airways now has direct flights to Da Nang daily. The competition is significant, so these airlines often offer cheap ticket promotions to Da Nang.
+ TRAIN: Traveling by train to Da Nang is also a very interesting experience you should try, but it takes a long time and a little difficult to sleep.hi. The interesting thing is that the train will go through Hai Van Pass, a very famous tourist destination in Da Nang. Going on here you will be going through the winding roads when one side is a mountain, one side is an extremely rewarding sea.
Traveling by train from Hanoi or Saigon to Da Nang takes about 15-16 hours. For the most convenience, you should book the car in the evening so that you can sleep at the destination and sleep at the destination. But going around that hour, it was already morning, it is suitable for watching Hai Van pass, the train goes through the pass rather than going through Hai Van tunnel.
+ BEDROOM CAR: Are you in the provinces near Da Nang such as Ha Tinh, Quang Binh Quang Tri, Hue, Quang Ngai … quite far from the airport, choosing a car is reasonable. Move about 4-6 hours, you are already in Da Nang and also save a lot of costs. The large and long-established car manufacturers such as Hoang Long, Mai Linh, Queen Cafe, Phuong Trang … all have more investment and competition in price as well as enthusiastic attentive service attitude.
NOTE: If you are in the surrounding areas, you can choose to travel to Danang by motorbike is also quite interesting. Before traveling by this vehicle, you must check the car thoroughly, good health and go many people to support each other on the road.
Should choose the means of transportation when in Da Nang
To move in Da Nang reasonable there are many means for you to choose. I will introduce you to know for you to refer to each situation that you need when you were in Danang.
1. DA NANG MOTORBIKE RENTAL
This is the most portable means, also the most affordable means, especially suitable for teenagers and small groups, you should rent a motorbike to move around the city for saving. Only 100k / 1 day 24 hours is very cheap and economical for your trip to Danang. Here are two units I have experienced very satisfied with the service, the quality of the car and the delivery procedure.
FIRST: I would like to introduce to you the Le Truong Motorcycle Rental Service. Only 200 meters from the airport, it is very convenient to receive and return the car. Once you have your arrival schedule, you just need to call ahead to pick up and drop off your car at the airport. Or to make sure you can also move to the store to choose for yourself the car that you like best. Not only delivery at the airport but also FREE delivery at other locations such as GA TAU, HOTEL and even in BEN XE far from the center ….
Quality of the car ensures, will prepare 1 liter of gasoline, 2 raincoats and 2 helmets. Rent ranges from 100k to 120k / day depending on the type of car and the rental period (multi-day rental price will be cheaper). There are all kinds of digital cars and scooters such as wave, sirius, jupiter, airblade, lead, vision….
Simple car rental procedure. To book a car, you can contact us directly by phone number: 0977.000.744 (Zalo) – 0977,000.844 to meet A. School. Address: 92/19 Thi Sach – Da Nang. When you rent for a long time, you can call ahead to ask for price support.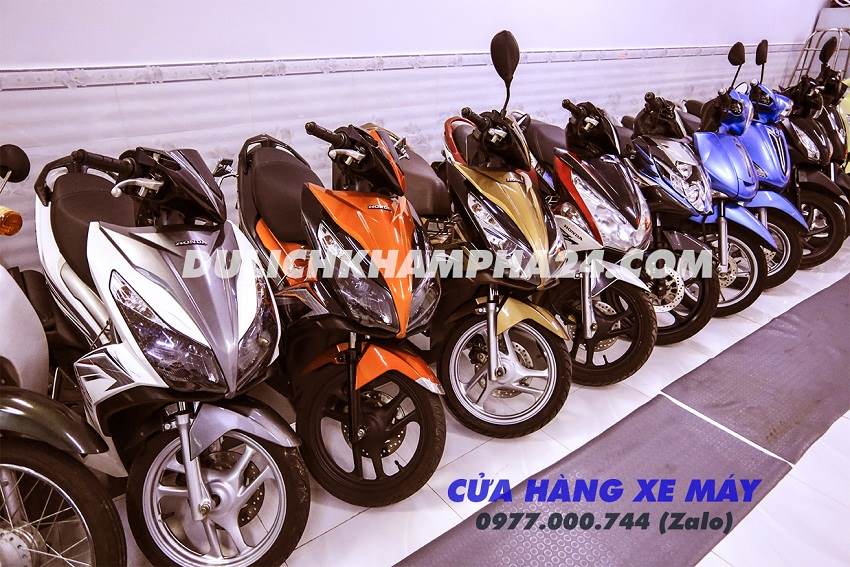 NEXT: Song Han motorbike rental facility is also one of the prestigious motorbike rental addresses in Danang with new models such as: Airblade, Vison, Lead, Wave RSX, Sirius, … Fairly priced reasonable from 80k-120k depending on the number of days you rent. When renting a car here, you will be delivered for free in the city center from the enthusiastic staff. Comes with each car you will borrow 2 helmets, get 1 liter of gasoline, 2 raincoat is quite thoughtful.
Car hire address at 86/26 Thi Sach, Q. Hai Chau is about 100m from Da Nang airport, when you get off the plane just call the car right away without waiting. Please contact Khoi to book a car! 0905 30 40 50 – 0962 200 179.
NOTE: You should also choose to rent a motorbike at the Hotel you stay in so that you can flexibly rent by the hour to travel to points close to the rent from only 10k – 50k for a period of 1 – 6 hours offline.
2. DA NANG TAXI
As I mentioned above, I cannot imagine the price of a taxi in Danang, which is 1.5 times higher than for other provinces. So the taxi solution is not very good solution. Hic. But taxis are still the easiest way to book for everyone, especially the elderly. Or you have to go to an urgent point, this is the best and fastest vehicle.
Some taxi companies you can refer to:
Mai Linh (02363.56.56.56).
Tien Sa (02363.79.79.79).
VinaSun (02363.68.68.68).
Aviation (02363.27.27.27).
3. DA NANG TOURS EVERYDAY
This is the best, cheapest travel plan that I encourage you to choose especially the places to visit as far as: Ba Na Hills, Cu Lao Cham, Hoi An, Nui Than Tai and beyond Hue. By tour is very safe, not to learn anything, with guides introducing each destination.
I have compared the tour price is generally much cheaper than the option to go on your own. I myself used to be self-sufficient, but since I experienced some graft tours in Da Nang, this is a very worthwhile option to consider.
I would like to introduce the Johnny Travel Trade and Tourism Service Company that I have experienced. Prestigious quality service, the cheapest price guaranteed in Da Nang. The beauty of this company is that you only need to book one day in advance without a deposit. After the tour is complete, end the fun program you have to pay.
4. GRAB CAR SERVICE
In the past, Grab took a lot of time to be licensed in Da Nang. Now they are officially active, so you can rest assured that book, both motorbikes and cars. The fare for cars is also around 10k / km.hi. Luckily, there are promotions.
Now almost just walking out of the hotel is you see a "staging" Grab cars, especially Grab motorcycles. Should choose this service instead of Taxi so you know the price is not broken.
5. DA NANG HOI AN BUS
Da Nang is also a big city, so the urban buses are not lacking so you can consider this option. But the truth is probably very few people use this service because of waiting for a long time and not knowing where to connect. Bus from Danang to Hoi An also only people here use very few tourists.
NOTE: Danang has a long 2-way bus route from the center of Danang – Ngu Hanh Son – Hoi An. You can choose them to go to Hoi An or Ngu Hanh Son (of course if near the bus stop.
6.CAR RENTAL TO GO POINTS IN DA NANG
If people only take advantage of a short time of day to explore Danang. According to Danang tourism experience, I think you should choose to rent a car to travel in Danang is also a good plan. To choose to book a car traveling in Da Nang, you must first consult and research all that place has and how to play properly. Finally, self-help schedule a few days for yourself in Da Nang. Should book in advance for 1 day to be sure, but on holidays, book 1 week in advance.
I introduce the information of the famous Tuong Vi garage in Danang about service quality as well as vehicle quality. With the staging system for most of 2019, enthusiastic and safe driving is also affordable. Anyway, you should ask carefully the price and schedule and time to go clearly before booking. Should confirm by phone message pick up date, pick-up time and payment costs as well as arising to the most convenient at the end of the journey.
The most beautiful tourist destinations in Da Nang attract tourists in 2020
There are many great places to visit in Da Nang that visitors may not know about. Where to travel to Danang? In the list of attractions below I will list for everyone to know. Help you plan your vacation in Danang.
Da Nang travel experience | City of the famous bridges
In Da Nang tourism, the first thing to mention is the legendary bridges branded by the city. In addition to the bridges that have been associated with names, Da Nang now has built a series of bridges that are more attractive and more attractive to tourists..
RIVER WELDING BRIDGE
Han River Bridge, also known as the Quay Bridge, is a bridge that used to be an extremely important position in the waterway and road transportation in Da Nang. The investment capital of several hundred billion dong was built based on the contribution of Da Nang people. Therefore, up to now, this bridge has always been a pride of every people here.
The bridge is famous for being able to move and rotate horizontally 90 degrees, designed for boats to and fro. Now mainly for tourists visiting and moving from the city center to the sea.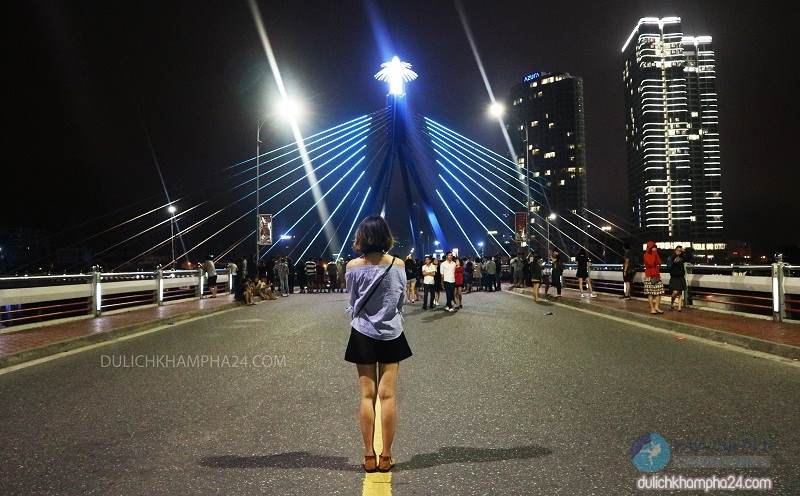 NOTE: At 23:00 on Saturdays & Sundays to serve tourists. The bridge has always been a symbol of Da Nang.
DRAGON BRIDGE
Surely when learning about Danang tourism, you will hear about this famous bridge, because it is like a new symbol of tourism here. When walking on the Dragon Bridge, you will have to admire, admire the design and size of the winding dragon, about 500m long and under. You should go and see the Dragon Bridge in the evening because at that time the bridge lights up, the color of the sea changes continuously so beautifully!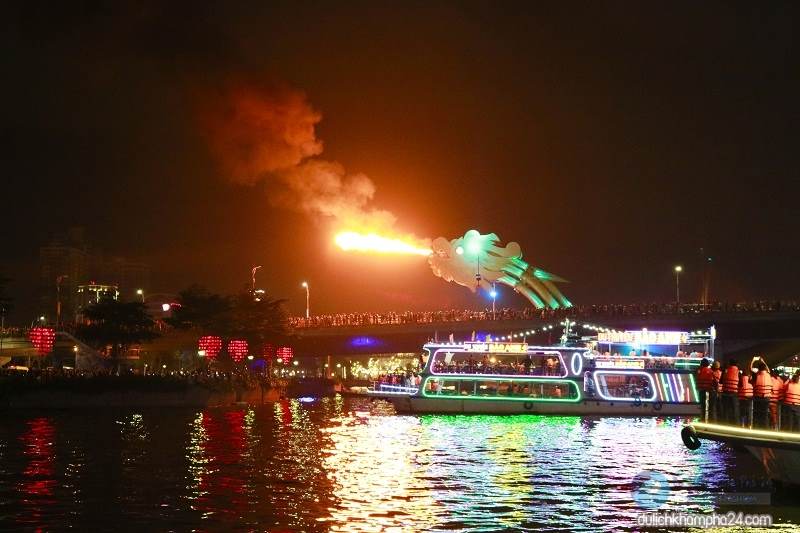 Next to the Dragon Bridge is the Son Tra night market where sells a lot of food and buy and sell everything. Young people at night often gather here to eat, shop and visit.
NOTE: At 21:00 on Saturday & Sunday, Dragon Bridge will spit fire and water. You definitely have to watch it, because coming to Da Nang doesn't watch the Dragon Bridge spitting fire, the water is considered to have not come here yet.
LOVE BRIDGE – CARPET DRAGON
This bridge is located at the foot of the Dragon Bridge, at the top of the dragon, a place you must definitely visit when traveling to Da Nang self-sufficient, especially with couples in love. You can take extremely beautiful and romantic photos.
In addition, they also have a key-selling service that engrave two lovers' names on it, used to lock them on the bridge, as a testimony to the love of the couple.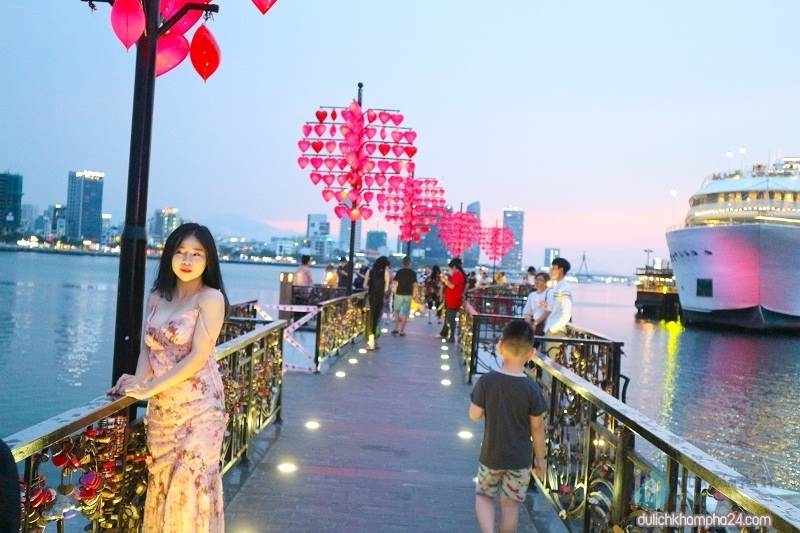 Next to the Bridge of Love is the statue of Hoa Rong Carp spraying water into the Han River. Very similar to Singapore's Lion symbol, you will have to say "BEAUTIFUL". Should be here from 19pm because at this time the electric light was lit very romantic and suitable for couples.
TRAN THI LY BRIDGE – GRAPHICS
The bridge was inaugurated with the Dragon Bridge. If you look a little closely, you will see the bridge has a gentle beauty with the symbol of a sail reaching out to the big sea. I myself really like to cross this Tran Thi Ly Bridge, because every time I come here, for some reason, I feel very inspired, very strange, very difficult to describe.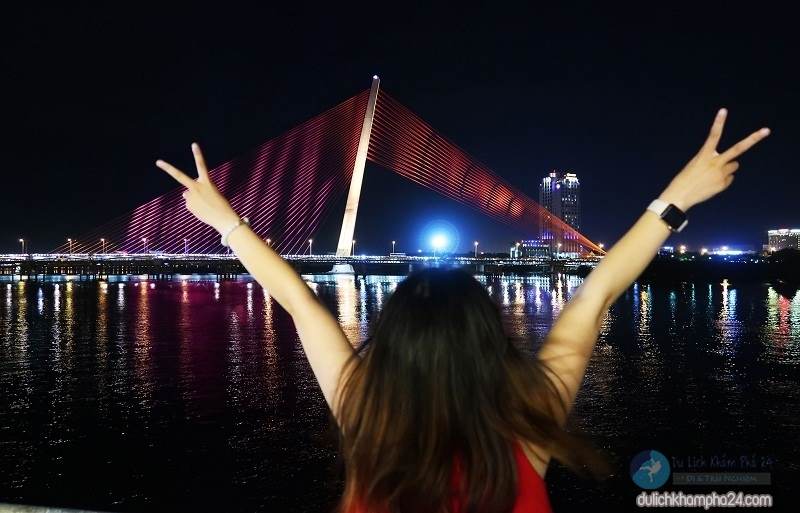 NGUYEN VAN TRI BRIDGE – BRIDGE FOR WALK
Nguyen Van Troi Bridge is the oldest bridge spanning the Han River in Da Nang, completed in 1965. But after Thi Ly Bridge was completed, this bridge is no longer in use anymore. Currently, Da Nang city retains the bridge as a souvenir, only for pedestrians, tourism development. Every night quite a lot of young people come here to play, take a breath, watch the scenery.
YELLOW HANDS – GRAND HILLS
Travel experience in Da Nang 2020 I see, perhaps today, the Golden Bridge is the most famous tourist attraction in Danang. Since Danang inaugurated the Golden Bridge on the top of Ba Na Hills, it attracts domestic and foreign tourists to visit every day. There are many people who went to Danang because of this Golden Bridge and came back here again.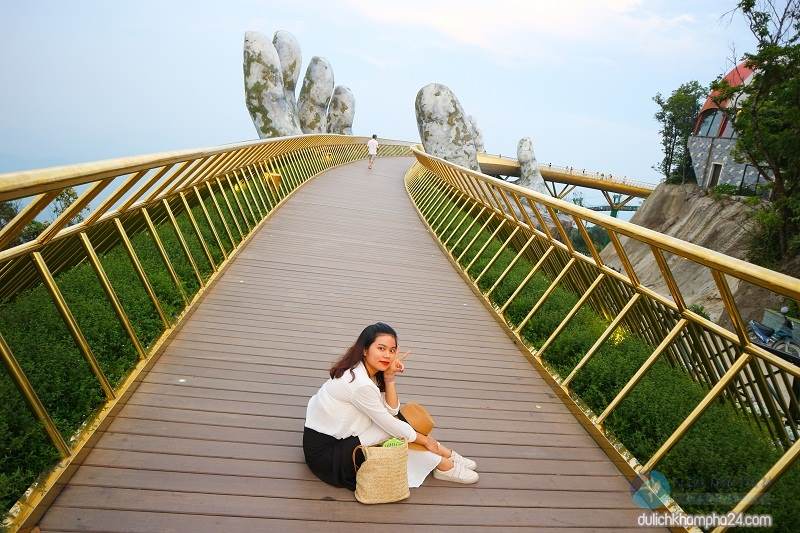 Many people do not know where the Golden Bridge is, so answer it always. Golden Bridge is located on the top of Ba Na Hills, if you want to visit Golden Bridge, you must buy a cable car ticket to get up.
The famous tourist attractions in Danang in the center
DA NANG BATH BOARD
As mentioned above, My Khe beach has reached the top 6 most attractive beaches on the planet. Highlights are the stretches of coconut trees, fine white sand, clear blue water that attracts thousands of visitors every afternoon. Besides, there are many fun and exciting activities such as parachuting, jet skiing, windsurfing … and many fun sports activities.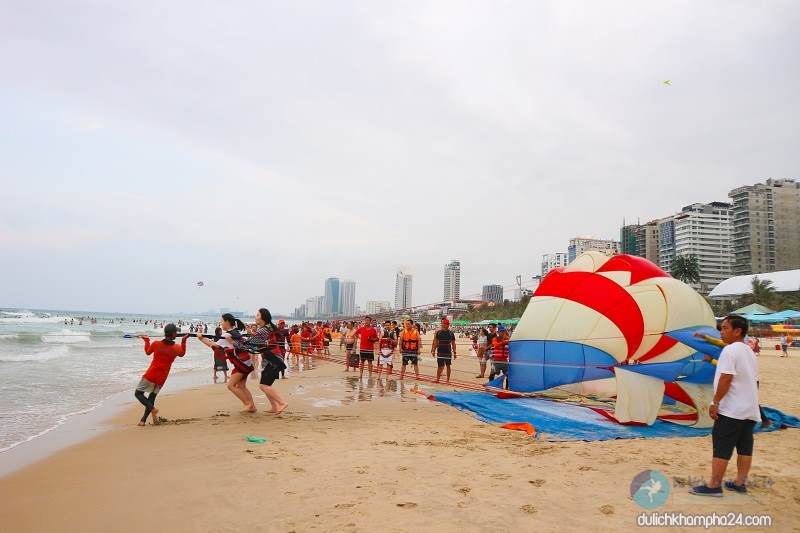 EAST SEA PARK
Lying on the side of Cau Quay to the sea, I have a heart attack when thousands of pigeons are surrounded. East Sea Park is very large, has a music program every evening and is a place loved by young people. Around 16h every day you invite your accomplices to take a selfie with the sea pigeon is very great.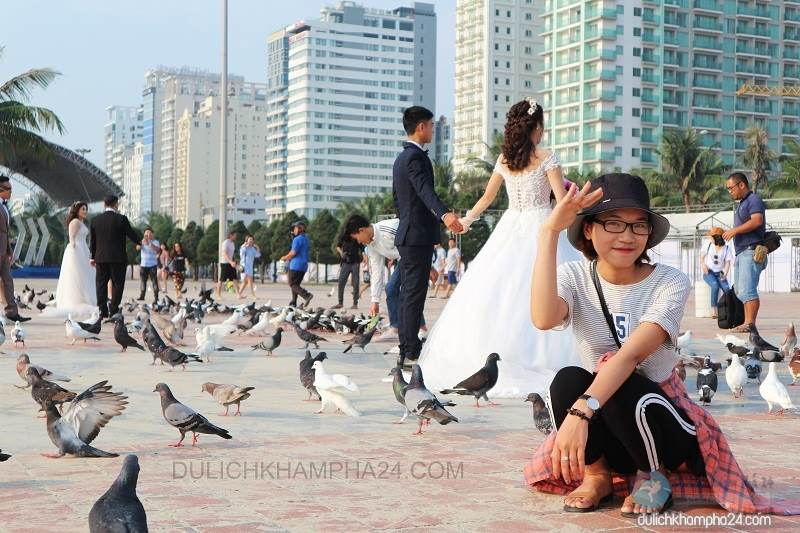 SON TRA PENINSULA
Located 10km to the east of the city center is considered as the green lung of Danang thanks to the nature reserve preserving rich and diverse fauna … Just rent a motorbike filled with gasoline and bring a You can start your exploration journey. Here are some stops you shouldn't miss.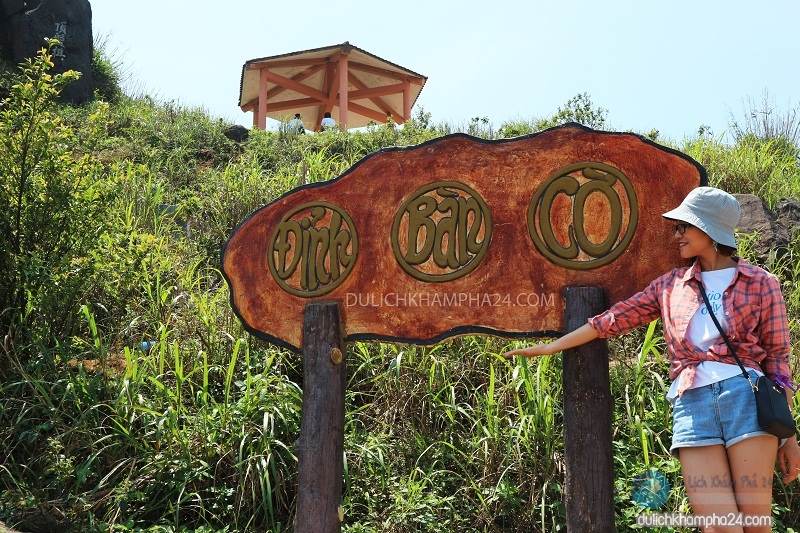 Son Tra Peninsula has 5 famous landmarks for you to conquer such as: Linh Ung Bai But, Bai Rang, Da Ngan, Nguoi Nam Tuoi, Ban Ban Peak and most recently, there is a scuba diving to see Coral. However, if you have more time, the coral reef option in Cu Lao Cham is still the most beautiful.
MARBLE MOUNTAINS
Marble Mountains is a spiritual tourist destination not to be missed when traveling to Da Nang. Here is the third Linh Ung Pagoda in Da Nang, in addition to many ancient temples, caves are very beautiful. If you try to climb the top of the mountains here, you will see the whole city, the beach, a beautiful scenery!!!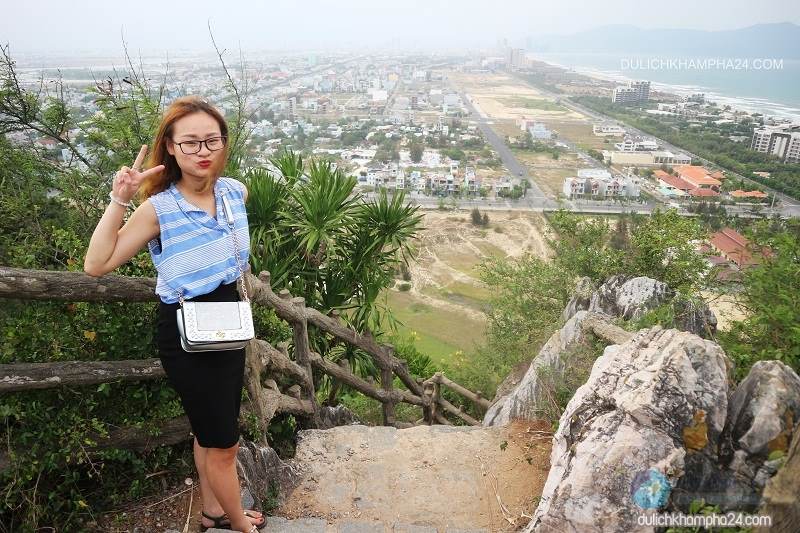 The way up to the main places in Ngu Hanh Son is a bit steep, hard to go, when it rains easily slippery, so you have to go very carefully, the elderly should use the elevator service to relieve fatigue, re safe.
NOTE: Ticket price to visit Marble Mountains 2020: Entrance fee: 40k, elevator ticket, one way: 15k, tickets to Am Phu cave: 20k.
DA NANG 3D PAINTING
A relatively new tourist destination that not everyone traveling to Da Nang knows. Da Nang 3D Painting Museum belongs to Art In Paradise Group which is famous for the system of 3D Art Painting Museum worldwide. The Group was founded in 2012 in Pattaya (Thailand) and continues to expand worldwide: Thailand, Australia, Malaysia, … In Vietnam, Saigon previously had one and Da Nang was a new museum. especially in Vietnam Currently.
The scale of the museum is up to 3000 m2 with 9 different themes, along with about 130 large and small paintings, colorful, emotions… Here you can freely create your own photos, the picture does not "touch" with anyone.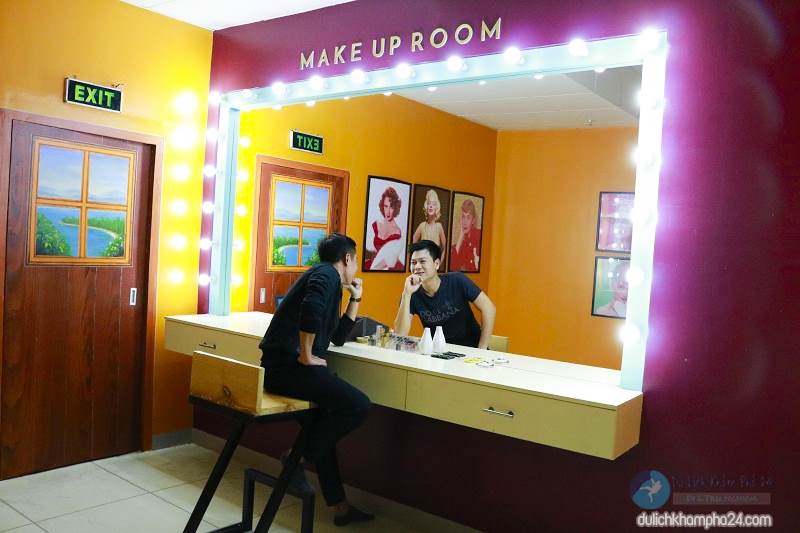 Travel to Danang to experience the 3D painting museum that attracts young people
What you get here is not simply seeing beautiful pictures to admire, or bringing back super-virtual photos that make your friends jealous, but above all it is the feeling of comfort and ease. worry worry, enjoy the beauty of art every time you come here.
Address: Lot C2-10 Trần Nhân Tông, Sơn Trà, Da Nang, Vietnam.
Compared to the ticket price in Thailand, the ticket price in Da Nang is much cheaper, only 140k / ticket.
If you want to buy a ticket cheaper than the original price, please contact Mr. Hung 0982,744,644 delivery tickets always offline.
ROUND IN HAN RIVER
This is a service enjoyed by many visitors, especially on weekends when the Dragon Bridge sparks fire. You can experience the feeling of floating on the Han River at dusk, watching the bridges and the whole area of the 2 sides of the river shimmering with lights. On the cruise there is a unique music service singing to each other, experiencing vibrant Cham dances. Especially on the weekends when the Fire Dragon Ball event is very attractive to tourists and often sells out tickets.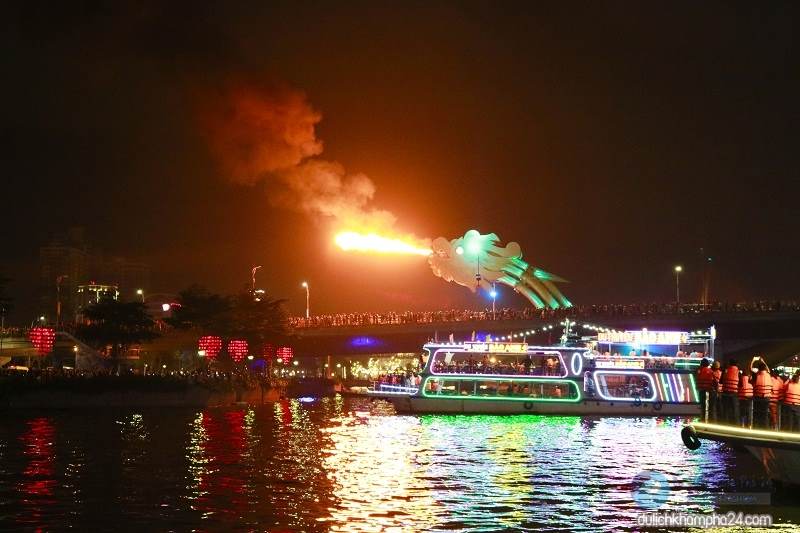 Departure time is 18h10 – 19h10 – 20h10 – 21h10. Note that on the Sunday weekend, the Han River Cruise will depart at exactly 20:00. The listed ticket price is 150k / 1 person, if you want to buy cheaper promotional tickets, you can also contact Mr. Hung 0982,744,644.
ASIAN PARK
When learning about travel experiences in Da Nang, surely you will not miss this place. Asia Park is located next to the floating island of Da Nang, is an entertainment complex with many topics of international class, with a lot of terrible records..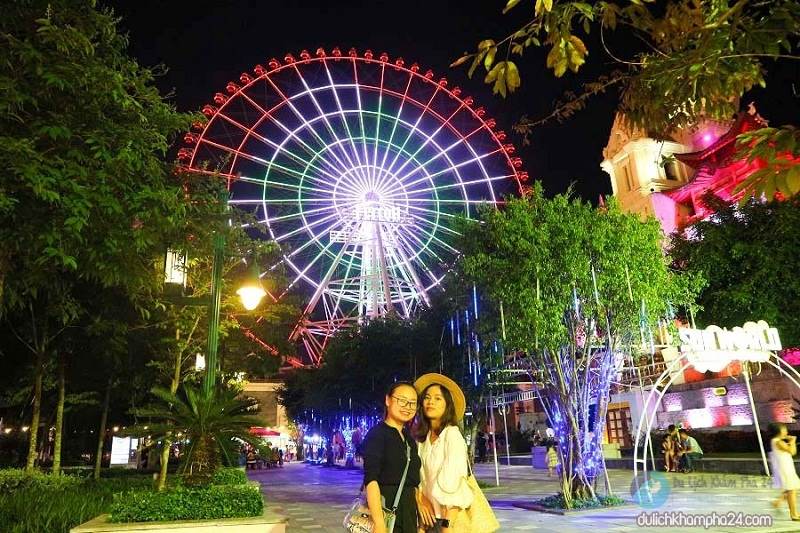 Coming here, you can enjoy sightseeing as well as play all the games from feeling light to heart full of expressive nuances. In the evening, the Sun Wheel, highlighted by Danang Asia Park, is full of sparkling colors that people cannot stop. Going on this rotation, you will have the opportunity to see the whole city and sea of Da Nang, a very special feeling.hi. I was lucky enough to go 2 times and experience it all but I really want to come 3-4 times again.
Next I will introduce more famous Da Nang tourist destinations but away from the city center for everyone to know!!!
Da Nang travel experience | The famous sights away from the center
In addition to the sights in the city I share above, the more famous places are far from the city center. However, if you want to fully explore, you have to have many days. Here I will introduce you all these Da Nang tourist attractions to help you have more information to go on your own.
BA NA HILL – PARADISE IN DA NANG
Dubbed the way to the foreground, it is an attraction that attracts all tourists when traveling to Da Nang. Perhaps all places in Danang can be ignored, but in Ba Na Hills, everyone wants to come once in their life. A place so beautiful, so magical !!!
Maybe sometimes we look at the ticket price of 750k (newly increased) and wonder whether to go or not? But trust me it is too worth the money you spend. I have come up here 3 times and also wrote a pretty detailed article to share travel experience in Ba Na Hills for everyone to refer.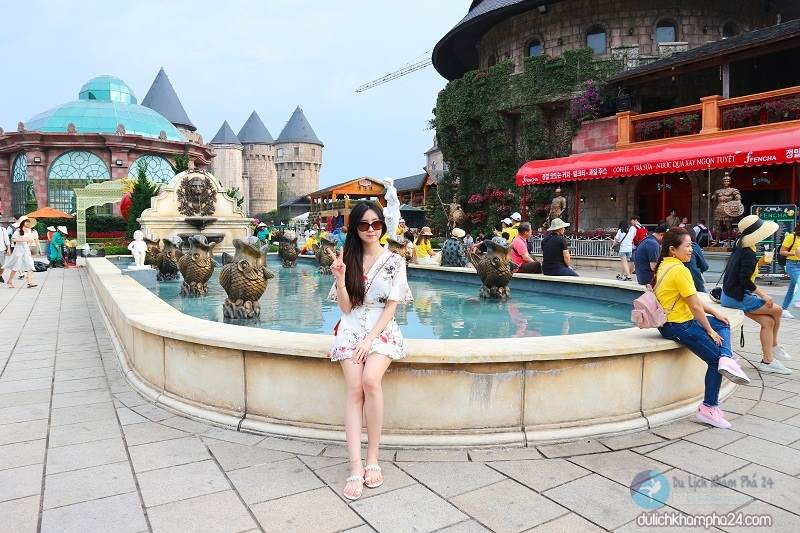 Since its inauguration, Ba Na Hills has broken so many records that few places in Vietnam can break. Located at an altitude of 1400m above sea level, 35km away from the city center with many great works. The impressive sights and special check in location is the Golden Bridge which is admired all over the world.
To visit Ba Na Hills reasonably and economically, you should refer to the daily tour program. Just convenient transportation, eating but also a lot cheaper than you go self-sufficient.
NOTE: In Danang tourism experience, Ba Na Hills is now officially not allowed to bring food and drink with you. There will be a thorough inspection staff when boarding the Cable Car, you know it to avoid having to waste it.
CHAM ISLAND – DIVING CORAL
The second Da Nang tourist destination behind Ba Na Hills is probably Cu Lao Cham island. Move a fairly long distance into Cua Dai Beach, continue surfing on the high speed canoe waves you will reach the dreamlike island. Here, you will leave the bustling city to discover new things and experience life here. With the freshly caught vegetables and seafood, make sure you will remember forever.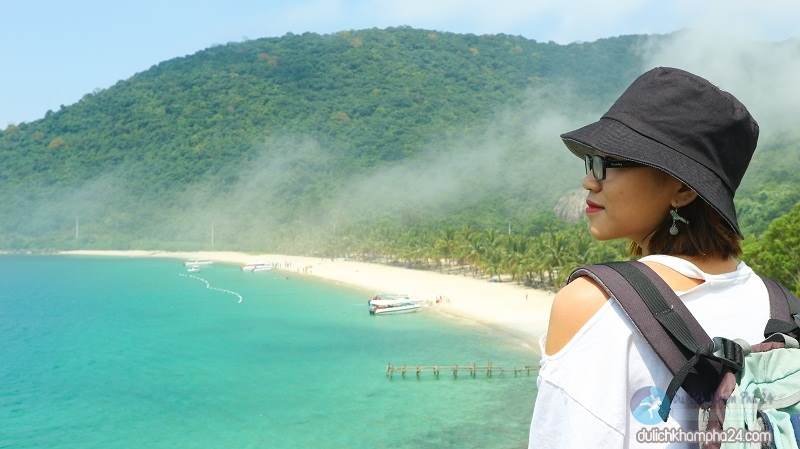 An experience you definitely should not miss is to dive in the coral reefs, the first time you see your corals is this place. In addition to diving service, you can also visit many other famous sites in Cu Lao Cham. To better understand this place, you should also refer to your most favorite article: Cu Lao Cham travel experience
Currently, besides Cu Lao Cham, it is much more crowded than in the past, the services are also more diverse so you can be assured whether you go on tour or self-sufficient. But compared to self-sufficiency, I also recommend that you book a tour better. Because when you go by yourself, you also have to buy a round-trip canoe ticket outside the port.
NOTE: One thing you should remember before going to Cu Lao Cham is not to bring plastic bags to the island, or at least, you do not bring and then throw there. Cu Lao Cham is striving to become a "plastic bagless island" that everyone contributes a little bit to this beautiful island.
THAN THAI MONEY MINERAL PARK
The next place I would like to recommend is Than Tai Tai Hot Spring Park. Endowed with nature, the natural hot spring springs from Ba Na Hills. The water from the headwaters burns to the feet, boiling the eggs. This is also the source of a very interesting natural bath and foot bath, extremely good for health.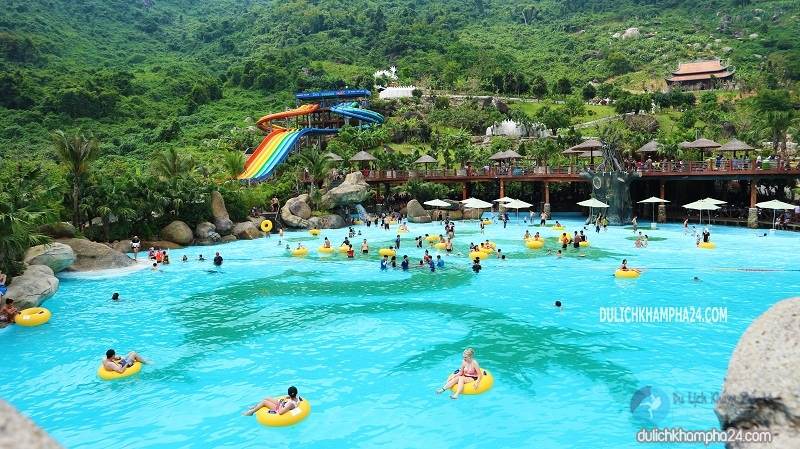 In addition to the hot mineral bath service, Nui Than Tai also built a large-scale water park with lots of amusement parks, extremely fun activities. Gentle yes, also adventurous. They also built a wave pool wider than 1,500m2, enough space for thousands of people to have an interesting experience.
Along with that are the services worth to experience such as mud bath, green tea bath, fresh milk bath, Japanese-style ONSEN baths … You should also refer to this place through the detailed article: Travel experience Than Tai Mountain.
PRICE LIST OF VISIT MOUNTAINOUS MOUNTAINS
Adult entrance ticket (including children over 1m3): 400k.
Entrance fee for children under 1m free, from 1m-1m3 is 205k.
Buffet ticket for adults is 250k and children are 125k.
Note: Ticket price does not include hotel or health care services such as mud bath, ONSEN, green tea … Because Mount Than Tai is 45km from Da Nang, it's quite difficult to go, you should also refer to Mount Than Tai tour. More convenient and economical.
MEASURE HAI VAN & HORSE TO HUE
A place dubbed as "The most majestic", the pride of both Thien Hue province and Danang city. Hai Van Pass owns a winding, winding road, many bends of sleeves, high slope, one side is the sea, one side is a cliff. That creates a feeling of "adventure" when traveling on this road, especially if traveling by motorbike.
In the past, traveling on this road was extremely dangerous because there were so many vehicles and trucks passing by. If it rained, it was really a "road of death", but since Hai Van Tunnel was put into operation, the number of vehicles There were fewer passes through the mountain pass, mainly motorbikes and tourists, and it was much less dangerous on this pass. Here are some places you should stop checking in:
Lonely tree (this is a bend, if you stop here, make sure you look carefully first).
The boundary landmark of Thua Thien Hue – Da Nang area.
Hai Van Quan is located on the top of Hai Van Pass.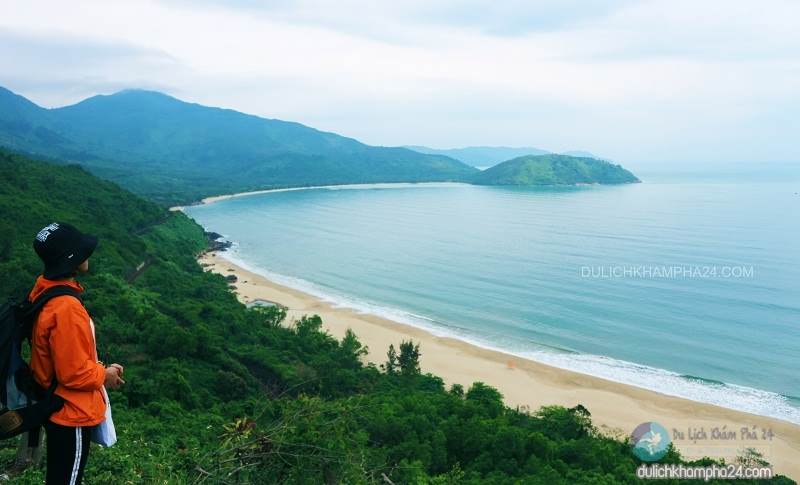 Lang Co is the beach you will encounter when moving close to the foot of the pass toward Thua Thien Hue. Seen from the position of Hai Van pass, Lang Co beach shows up with the beauty that not all places have.
A long straight beach, somewhere that houses the roofs of the people here, sometimes meeting the foggy sky, Lang Co becomes even more magical. Watching the sunset at Lang Co is an experience you should try when planning to visit the Hai Van – Lang Co pass.
Travel experience Da Nang Hue Hoi An | The combination choice
Da Nang travel experience combined with visiting Hue and Hoi An is also the plan of many people. Most people book a hotel in Da Nang and go home during the day rather than staying in Hoi An and Hue. I also introduced more about these places for people to know.
HOI AN CITY – THE SURPRISING ANOTHER ANCIENT
About 30km from Da Nang city, go straight to the crossroads intersection with An Bang and Hoi An sea. Turn right about 3km and you will reach Hoi An ancient town. This place is recognized worldwide as a world famous historical monument. Coming to this place, we only see the West is the West.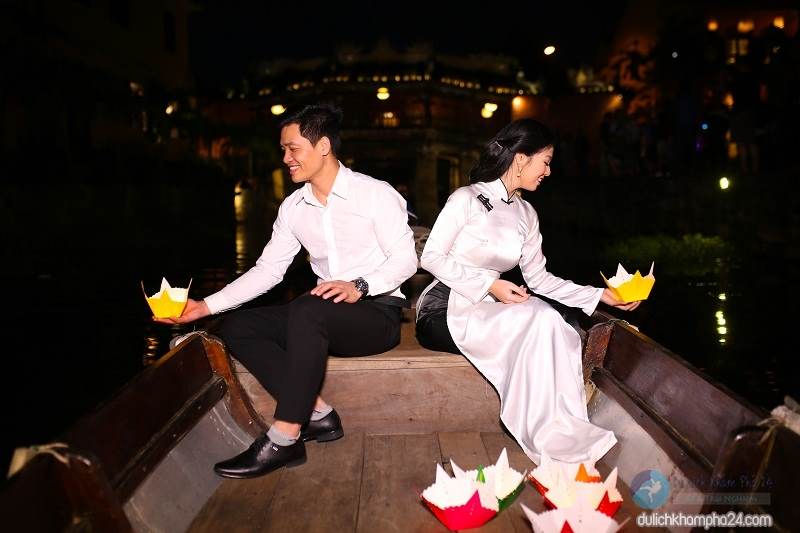 According to my experience in Da Nang Hoi An tourism, if you do not have much time when traveling Da Nang Hoi An self-sufficient, it is recommended that you go to Hoi An in the afternoon, about 16:00 pm is "beautiful". Especially on the evening of the fifteenth day of the fifteenth day of the fifteenth day (not 15 times) or the first day. Because on this day, the old town lights up lanterns and releases beautiful lanterns of good luck.
In addition to famous attractions such as Cau Pagoda, Old House or traditional festivals such as Bai Choi, Hoa Dang drop … Come here, you also do not miss the famous delicacies such as: Chicken rice, high floor, mussel rice , Phuong bread, Adam Khanh … Want more information you refer to: Travel experience Hoi An
Signing up for Hoi An tours from Da Nang was also chosen by everyone. I myself have tried the feeling of touring and have found it extremely interesting.
VINPEARL LAND TOURIST AREA IN NAM HOI AN
This is a brand new tourist destination of Da Nang Hoi An. I have to tell you the truth, at the beginning when I didn't come here, I thought it was kind of like a water park like the God of Fortune, it probably wasn't worth going anywhere …
But … when I came here, I spent a whole day exploring and experiencing. I think Vinpearl Land Nam Hoi An is an extremely worthwhile tourist destination, whether you're traveling to Danang or traveling to Hoi An.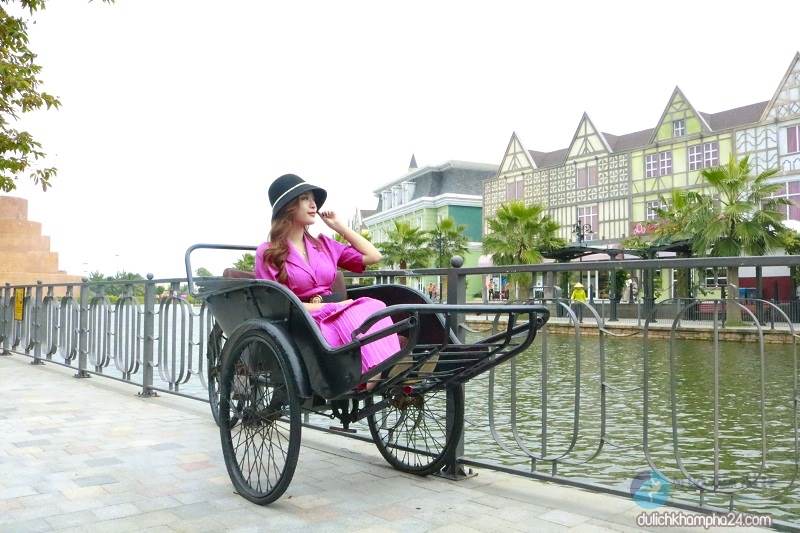 I was impressed by Vinpearl Land Nam Hoi An by so many things, from so many interesting and adventurous games for young people. Accompanied by a lot of games for children. Because here they set aside an extremely large area to show the folklore of their country.
Then a whole series, a lot of extremely interesting underwater games that are not everywhere in Vietnam… Moreover, for young people who like to take photos, there is also a private space of villas. colorful, with houses built and decorated in an old style, like Hoi An…
✪ REFERENCE DETAILS: Experience Vinpearl Land South Hoi An tourism.
The biggest minus point for me during the recent Vinpearl Land Nam Hoi An trip was just about eating, exactly lunch at the "ship" restaurant. It's really bad, the price is very expensive … So if you go to Vinpearl Land South Hoi An, you should bring food with you or enjoy at a different restaurant. The current ticket price is 550k for adults, the elderly and children, the price is 400k, after 17h, the ticket price is reduced by about half.
DA NANG TOURIST COMBINATION TO VISIT HUE CITY
Perhaps you are a little wondering why you mention Hue here? Here with Danang Tourism Experience Hue I will introduce to everyone more! To learn more carefully you should refer to this Hue travel experience.
Hue is about 100km from Danang, only takes about 2 hours to move. As one of the most attractive tourist destinations in the country. Therefore, if you travel to Da Nang on your own for more than 3 days, you should consider traveling to dreamy Hue.
Often people still choose to travel to Hue and return to Danang during the day rather than staying back in Hue.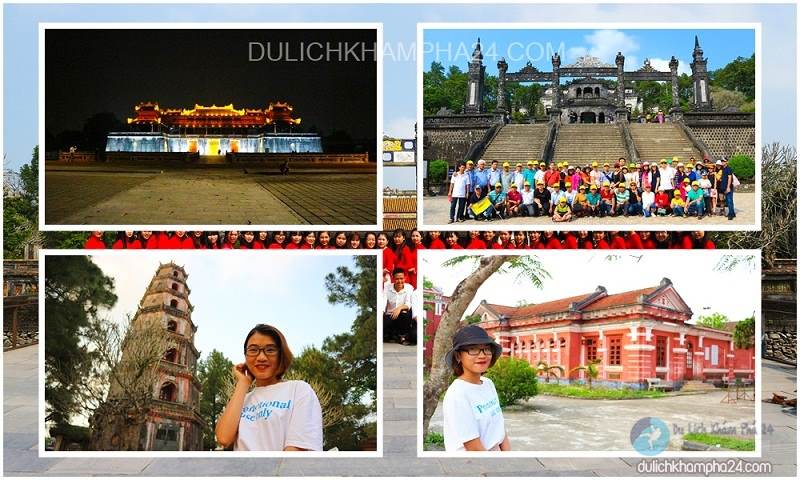 If you are going to Hue, please remember to visit the following main locations: Dai Noi, Khai Dinh tomb, Thien Mu pagoda, night market, Trang Tien bridge. And do not forget to enjoy a lot of delicious and famous specialties in Hue such as Hue beef noodle soup, duckweed cake, filter cake, mussel rice…
Da Nang travel experience | Other famous places in Danang
In addition to the tourist destinations I mentioned above, you also consider adding the following locations to see if it suits you.
Museum of Cham Sculpture.
Children's park.
Upside Down House.
Dinh Dong Museum of Da Nang.
Danang Lighthouse.
Film studio Island Danang.
Da Nang tourist destinations far from the city
Tam Thanh mural painting village.
My Son Sanctuary.
Rang Nam O.
Hoa Phu Thanh sliding area.
Tourist area of Suoi Hoa, Mo stream, Luong stream.
Great point Da Nang backpacking.
ABOUT DA NANG TOURISM COMPANY | PRESTIGE – QUALITY – CHEAP PRICE
As I shared in the previous section, I used to be self-sufficient in the past, but I always ride motorbikes. But from the second phase of my friend's motorbike accident (miraculously, only slightly scratched even though the impact was quite strong) I started thinking about traveling by car, then going on tour more. And until now, when spending money directly to experience some tours in Da Nang, even though I've been to those locations a few times, I think this is the option you should consider for a travel trip. Da Nang's upcoming.
Da Nang tourism development will appear many Da Nang tourism companies spring up. But to choose for your family a perfect unit, reputation, quality of service No. 1 in Danang is not easy. A lot of companies have sprung up in the form of intermediary company, which means getting high price customers and reselling them to organizers for a commission. So where is the best company, the cheapest, the best quality, I recommend it to everyone to know.
Johnny Travel – Trade and Tourism Service Company – Proud to be a tour organizer with 12 years of experience, committed to ensuring the reputation and quality of service …
And importantly the cheapest Da Nang. You contact directly and only the operating room via hotline: Mr Khanh 0919 57 45 45 for advice and best tour booking!
✪ VERY SIMPLE: You just need to book 1 day in advance, no deposit required – Finish the new tour Pay money. Should refer to the Tour price list on the website for easy reference in the days of tourism in Da Nang!
What to eat in Danang? | Experience in choosing famous specialties in Da Nang
Traveling Danang, exactly Quang Nam (Da Nang separated from Quang Nam) is a province with extremely rich cuisine. With so many delicacies that every visitor comes here must try such as Quang noodles, pancakes, banh canh, pork rolls, girdle rolls, fish salad, Xuan Trang tea, Lien tea … Here I would like to share More details about each dish, along with the specific addresses you should visit.
Traveling Danang | Enjoy famous cuisine
+ QUANG QUANG: Every time I come to Da Nang, I will never forget this Quang noodles, Quang Quang fish is still my favorite. I like the taste of fish, just enough water, fear of revolutionary giant noodles. You absolutely can find noodle shops that cost 15k, 20k is full, 25k and cheaper than that. Here are some of the restaurants I have enjoyed, with reviews and specific addresses:
Quang Ba Pasta Noodles: Price 30k – 50k, address 166 Le Dinh Duong.
Mỳ Quảng Bà Buy: Price 25k – 40k, address 40 Ngũ Hành Sơn.
Quang Ba Hoa noodles: Price 30k – 40k, address 45 Le Do.
Mỳ Quảng Frog Kitchen Trang: Price 50k – 70k address 441 Ông Ích Khiêm.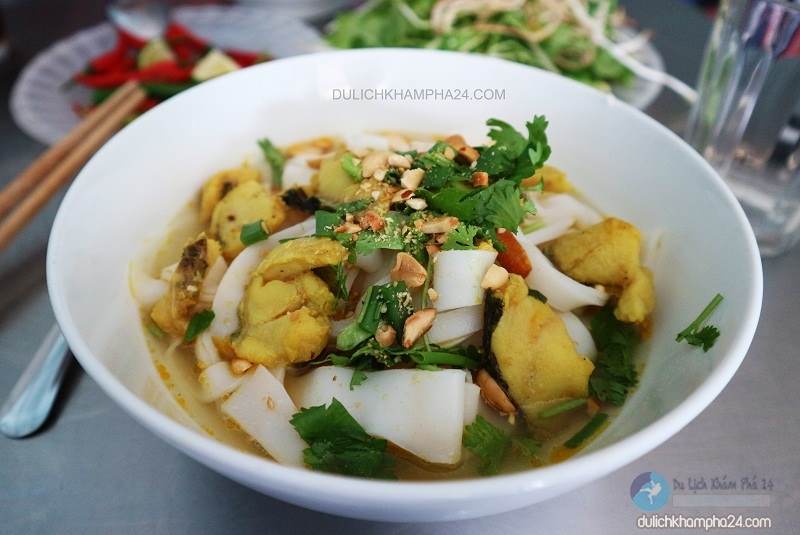 + PORK RICE PAPER: It's like a spring roll, a kind of Hanoi noodle soup but of course its ingredients and flavors are different. Especially love the sauce (sauce seasoning) extremely, it is like soy sauce but not soy sauce. Very delicious and worth a try. Well, I recommend that when you go about 3 people, you should only order 2 orders, but just look like that, but sometimes you don't eat them all, it's a waste. Here are some shops you can visit (the shop near the center for easy access):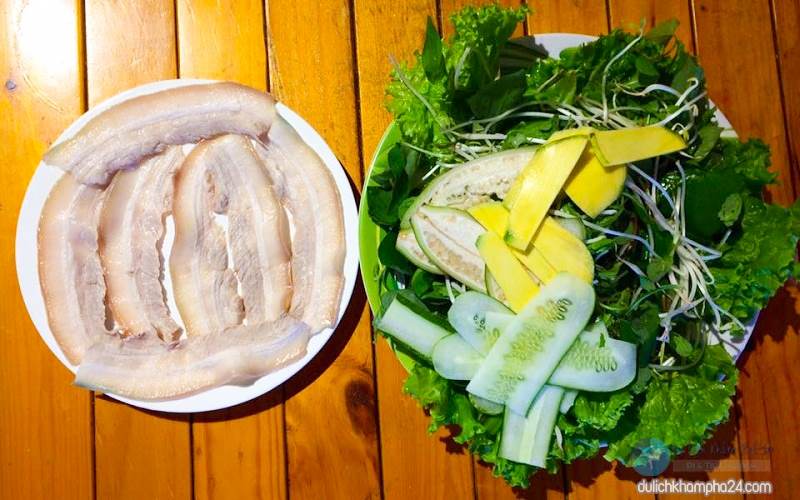 Tran Pork Rice Paper: Price 120k address 04 Le Duan.
Ba Huong pork rice paper: Price is 70k, 2/9 street address.
Que Xua pork rice paper: 40k price at 167 Nui Thanh.
Dai Loc Pork Rice Paper: Price 40k address 64 Nguyen Du.
+ DA NANG RICE CAKE: My pancakes eat quite a lot, from the South to the North already, but to me the flavor in Da Nang is still the best, more accurately the flavor comes from a bowl of dipping sauce.hi. Each crime has shrimp, a little dislike. You can refer to some of the following addresses: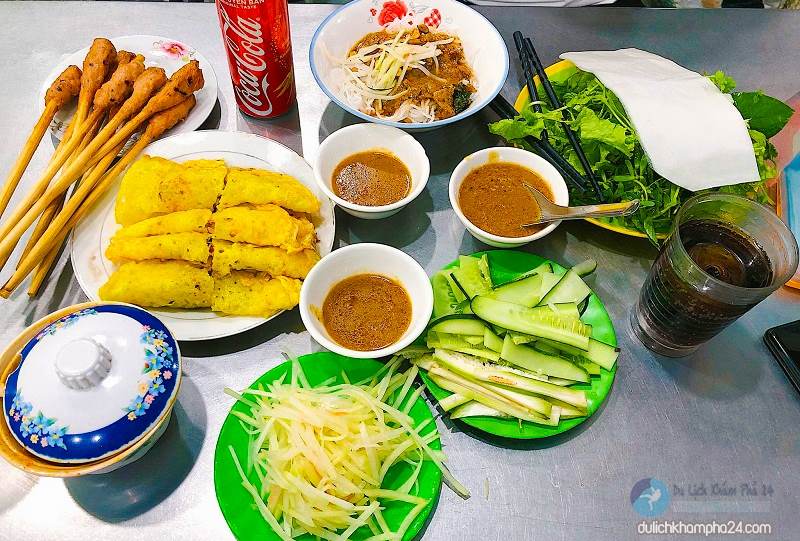 Ba Duong pancakes: Price 10k address K280 / 23 Hoang Dieu, the most famous Da Nang.
Ba Hong Pancake Cake: Price of VND 5k, made with 4k rolls quite tasty. Address 84 Le Do.
Shrimp Jumping Pancakes: Price 5k address 140 Nguyen Duc Trung.
+ DA NANG CAKE: A very interesting dish, interesting from the broth to the noodles. There are also many different types such as snakehead fish soup, grilled fish, grilled fish, crab … Some places you can visit:
+ BANH CANH RUONG: 15k address at 20 Ha Thi Than quite famous served from 16h-22h.
Banh canh Ruong: (at the end of Tran Hung Dao street, near the foot of the bridge. Thuan Phuoc): Price is 9k, very cheap but I feel a little tired because of a lot of fat.
Soup Thanh Huong: Price 20k address 130 Le Dinh Duong.
+ MEN'S SOUP BOX: This is an extremely famous and typical specialty in Da Nang. You can visit Nam O fish salad shop (972 Nguyen Luong Bang), Nhung restaurant (671 Nguyen Tat Thanh) to enjoy! Price from 50k-100k / disc.
Da Nang tourism is famous for special dishes like Tea – Ice Cream
+ CHU LIEN: Probably the most famous snack in Danang. Currently, Lien Tea has been distributed to Hanoi and Saigon, but all are preserved and eaten not as fresh. If traveling to Da Nang self-sufficient, please enjoy to take place to feel offline. Price of 20k for 2 premises is 189 Hoang Dieu, 175 Hai Phong.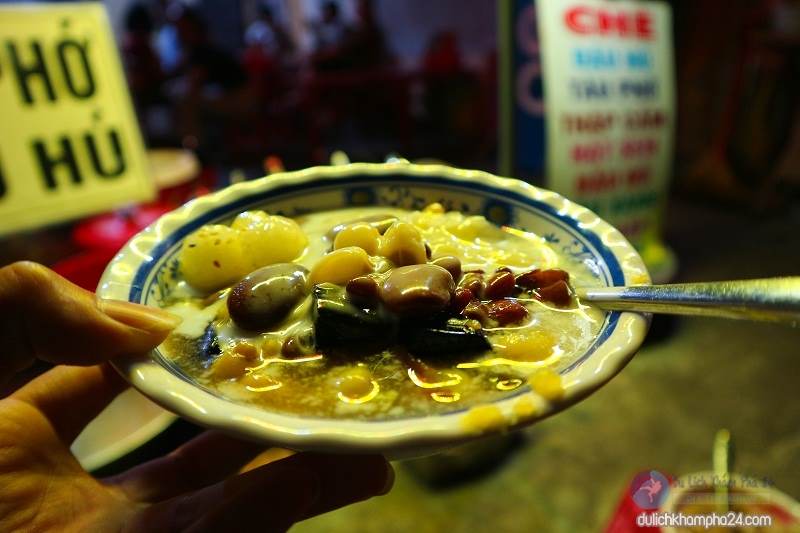 + XUAN TRANG TEA: This tea is always good, at least for me, there is no tea shop in Vietnam that makes me like, I remember, I'm "addicted" to it. Every time I come to Da Nang, I enjoy this dish, sometimes several times, I have to eat several cups at a time. Currently there are 3 establishments in Da Nang, but I recommend eating at 31 Le Duan. Although the owner said it was cooked in Le Duan and then moved to the other two places, why do I find the best Le Duan party.
+ CREAM VAN VAN: This dish I took my friend to, then it kept asking to go eat. But the recognition is too cheap and super delicious, unlike in Da Lat, it is super expensive. Price 10k / cup. Address: Bac My An Market, Ngu Hanh Son.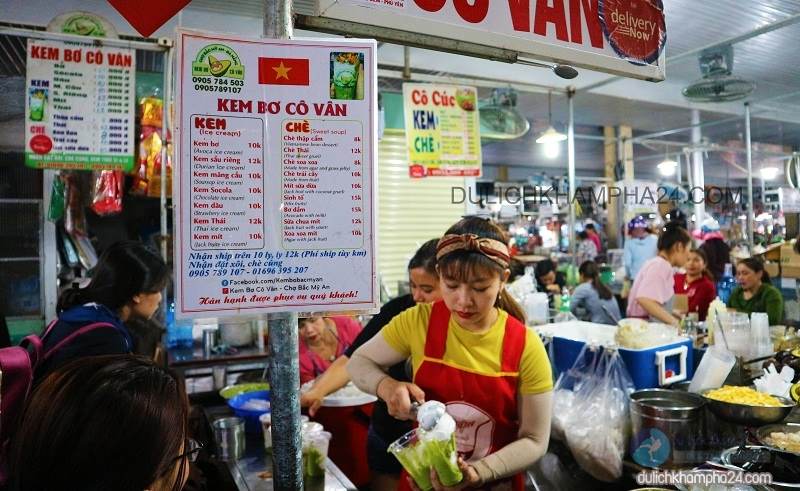 In addition to these specialties, if you want to find a restaurant for the group … or want to snack, you can refer to the share below of me.
Experiences in traveling to Danang should choose which restaurant is delicious and quality
Said to travel, try to enjoy a lot of delicious food, local specialties, but sometimes crave rice to die. Eating rice is still delicious, reassuring, most sure.hihi There are many readers who ask me where to eat for family where delicious, reasonable price, I would like to share to you a few locations offline:
+ NOODLE: Along Nguyen Tri Phuong street, there are many restaurants for you to choose, Coi Nguon, 3 Cai Bong and Red House are suggestions for you. But this is a restaurant so the price is quite high
+ CHICKEN RICE: In Da Nang, I often eat Hong Ngoc Chicken Rice on Nguyen Chi Thanh street. If you go to Hoi An, you should eat in Hoi An.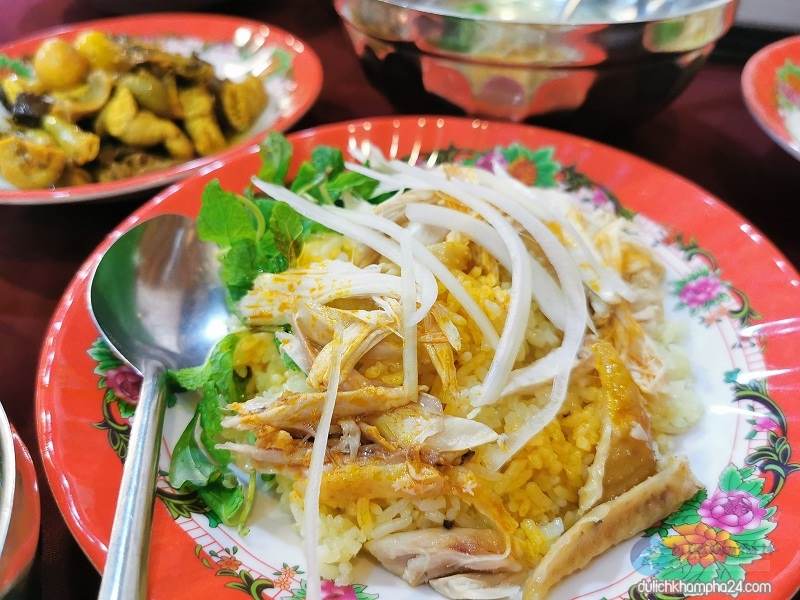 + RICE SHOP: Address 134, Street 2/9 is quite crowded at noon.
+ SAU HUNG BEEF HOTPOT: If your family does not like to eat rice, you can visit this shop to eat beef hotpot. This is an heirloom restaurant in Da Nang that does not have a second address at Ngo Quyen Street near Tran Thi Ly Bridge.
Da Nang travel experience | Choose seafood restaurants that are both delicious and cheap
Surely this is a question that many of you wonder when traveling to Da Nang self-sufficient? hi. By my own experience, along with that of a sister whose soul is eating and living in Da Nang, will definitely help you a lot. Here is information some restaurants from cheap, delicious, cheap to large restaurants are also very reasonable price, please send to you for reference:
+ SEAFOOD SEAFOOD YEAR: This shop is crowded with words, the price is 60k / plate. Today I went 4 sisters, eating full stomach that all nearly 700k.hi. You should come during the day rather than without a seat. Address: K139 / H59 / 38 Trần Quang Khải.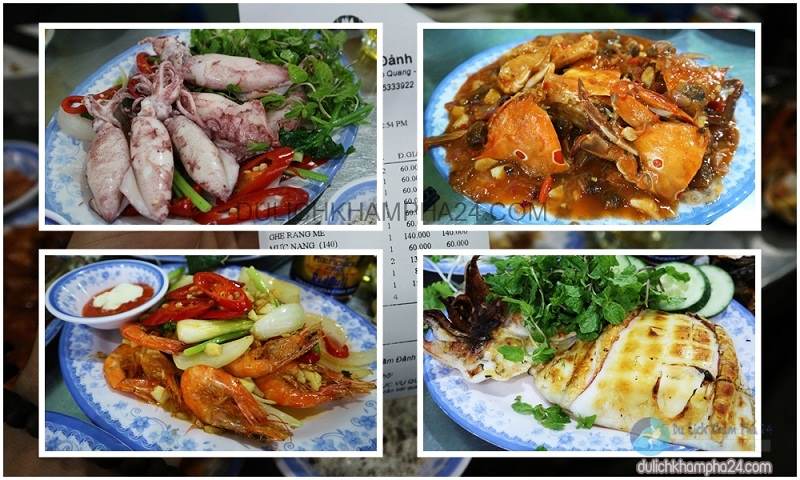 + BA RO SEAFOOD: This restaurant is also close to Nam Danh, the shop is bigger and the price is higher than Nam Danh. But in return, it's more polite and the food is quite good. In general, it is cheap compared to the restaurants in the sea center of Danang. Address: 118 Ly Tu Tan.
+ SMALL SEAFOOD: This restaurant is higher than the other two, processing is also quite delicious fresh food. Address 25 Ha Bong.
+ SEAFOOD SEAFOOD: This restaurant is quite famous for Da Nang. Famous for the media only, but the food is quite expensive, but in return, the seafood quality is better than the three restaurants above. Address Lot 11 Vo Nguyen Giap.
+ MY HANH SEAFOOD: This is a quite luxurious restaurant. If you have a lot of pocket money or receive guests, you can choose to go to this restaurant. The price is definitely quite high.
NOTE: There are many other cheap and affordable restaurants. You should also ask the receptionist of the hotel you are staying to be introduced more carefully. Avoid asking TAXI guys on the street, they will definitely be suggested to restaurants that have commission.
Da Nang travel experience | Choose attractive snack bars
For those of you who love snacking, this is definitely extremely useful information for you. With travel experience in Da Nang, I will recommend you super delicious and nutritious snack bars.
COCONUT YOGURT: Price 10k, address 196 Bach Dang.
SNAIL: Price 20k / 1 plate only on Tran Thi Ly bridge, Ms. Tuong Tuong – 35 Ha Thi Than.
STICKY RICE: Price 15-20k opposite to 27 Ngo Gia Tu, Da Nang.
In addition, you can go to Con market to enjoy all the specialties and snacks in Da Nang, lots of extremely. The specialties, you can go from the morning but snacks at 4pm the company went home.
Da Nang travel experience | What to buy as a gift?
The psychology of most people who travel for many days want to buy local specialties to bring as gifts for family or for relatives and friends. Da Nang is a tourist destination with culinary specialties extremely rich and diverse in the whole country. Not only are fresh foods, famous dishes, but also the types of dry specialties extremely easy to find to buy and make for your relatives.
In a list of specialties purchased as gifts as: Dry specialties, fresh specialties are often sold at supermarkets, Han market, Con market in Da Nang.
In addition to the above items, the current specialty that customers buy the most is Da Bo Cha dish. This is a very delicious dish and is especially loved by not only people in Da Nang but also tourists here.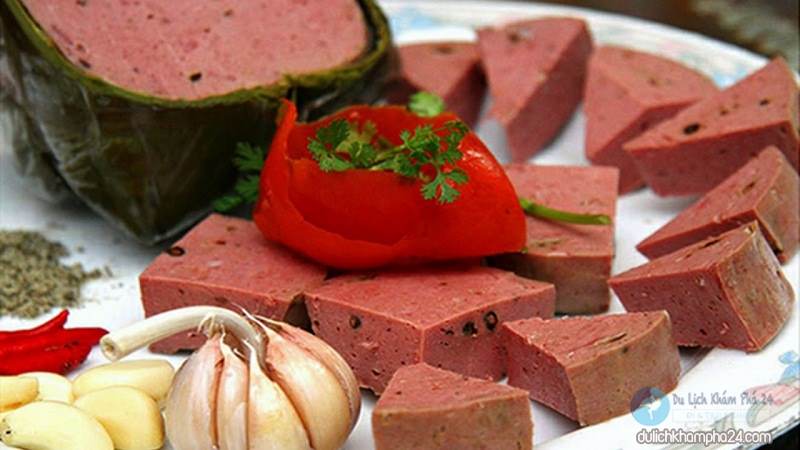 Secret travel schedule Danang full and attractive
To be able to create a schedule that suits each of you is really too difficult for me in the framework of this article, so I would like to share with you 2 types of schedules that are most popular for your reference.
Da Nang travel schedule 3 days 2 nights
Because this is for those who have little time to travel, I will pack the schedule of Da Nang travel 3 days 2 nights so you can save a lot of time to travel to Da Nang!
+ Day 1: If from Hanoi or Ho Chi Minh (Saigon) to Da Nang soon you can go to Ba Na Hill a tourist destination that few tourists miss when arriving here. If you are late, there is no cheap tour, you will choose to travel to Da Nang self-sufficient, self-rent motorbike and backpacking.
At the end of Ba Na Hills, you will go to the beach and go to eat and drink, then stop at the bridges near the Han River to take photos or take a motorbike rental to rent around Danang at night. The beach is also very interesting.
+ Day 2: You will go to Cu Lao Cham, if you are tired and do not want to travel alone, then you book a tour and when you come back, you will tell the car to go straight to Hoi An Ancient Town and then spend the night on your own. Danang by taxi also. The price of a 4-seater 4-way car is about 220 thousand, 7 seats of about 270 thousand is not too expensive.
+ Day 3: You should see if your schedule is enough time to travel to Son Tra Peninsula – Da Nang or visit the Korean market to buy gifts to your home town.
And if you stay one more night the next morning, fly back early, according to your experience of Danang 3 days 3 nights, you will go all Son Son Peninsula and shopping at the market as well as groping more. Many famous restaurants and cheap cheap…
Tour schedule DA NANG 4 days 3 nights
Da Nang travel schedule 4 days 3 nights for those who have plenty of free time to explore all in this Da Nang trip …
+ Day 1: Morning to visit Linh Ung Pagoda, Banyan tree for thousands of years, going around Son Tra peninsula.
In the afternoon go to Non Nuoc, Ngu Hanh Son.
Afternoon go to Hoi An ancient town to play, until 9am back to Da Nang
+ Day 2: In the morning go to Ba Na Hill (7:45 – 17:00)
In the afternoon, go back to the beach and watch the fire-breathing dragon (If it hits Saturday & Sunday) otherwise rent a car through the city for a walk.
Evening go eat seafood and watch the night sea
+ Day 3: In the morning, go to Cu Lao Cham (7:30 – 15:00)
In the evening, go eat specialties such as Tran girdle cake, Mrs. Xam cake, etc., and then go play around the Sun Wheel.
+ Day 4: If it is the last day, you should take some time to go around the city, buy some special gifts for the beach, then go back to rest to arrange for your family.
Travel experiences DA NANG self-sufficient 2020
Although the weather in Danang in summer is much softer than many other provinces, it is also very sunny and hot. Make sure you prepare your clothes and sunscreen well.
Do not try to visit many tourist destinations! Going to a lot of tired people, getting sick is the whole trip
In Danang, the airport and train station are located in the city center, very convenient for moving to the hotel.
The security is extremely good here, so you can rest assured about robbing or stealing. But of course, being careful is not redundant! Hi
Rent a motorbike just put on the hat, go as prescribed, you do not have to worry about the police calling back for documents. Tourists are very prioritized here.
If your shopping is tight, you can call 02363.825.467 or holine 0903.502.480 of the market management department, someone will come to help you.
Every week on Saturday and Sunday evenings, there will be 2 events: 21h00: Fire Dragon + water, 23:00 Han River Bridge turns. Do not miss it!
Hoi An 14-15 lunar calendar with temple lighting and flower lanterns drop. This time is the time you should visit, but of course, it will be very crowded, you should come early.
If the hotel has a motorbike rental, you should rent it there, convenient, support many procedures such as renting outside. The price for renting a car in the hotel is only from 100k / car / day.
END: I hope these self-sufficient Danang travel experiences will help your upcoming Da Nang 2020 trip. Certainly, I will come to Da Nang many times more, and of course I will regularly update more tourist attractions, fun, schedules, delicious, nutritious, cheap, … in this article, to send. to you guys. So if you are still wondering where to travel to Danang, what to eat, where to eat or where to pay, don't think anymore! Traveling to Danang is very cheap, you just need to choose a free day, pick up your backpack and go.
Well, if you find this article really helpful, then click the share button below on your personal Facebook page to help me dynamically write additional articles with additional useful information. Pocket guide on travel experiences in Danang!
Wish you have a fun and meaningful trip to Da Nang.
---
This article uses material from the website dulichkhampha24.com. See the full version at:
https://dulichkhampha24.com/duc-ket-kinh-nghiem-du-lich-da-nang-tu-tuc-sieu-tiet-kiem.html