"How far is Danang from Hoi An?", "How many kilometers from Danang to Hoi An?". Or how to move from Da Nang to Hoi An are the questions you have been searching on google for quite some time.
Today, HoiAnTravel.Company would like to answer you with the above issues to help you get the necessary information for the trip to Da Nang – Hoi An becomes more convenient.
As you know, Hoi An is one of the world cultural heritages recognized by UNISCO and at the same time, this is also a tourist destination visited by many tourists, including both domestic and foreign visitors.
The charm of Hoi An has never ended in the eyes of those who love to move and like to discover new things. In Hoi An you will admire the beauty brings many ancient features from ancient houses with extremely unique architecture.
At night the whole old town is adorned with the shimmer of thousands of lanterns hanging from the eaves of the porch that brighten an entire neighborhood.
Coming to Hoi An, you can visit the famous places such as Japanese Covered Bridge, Assembly Hall of Phuc Kien, Old House of Tan Ky, … to enjoy special dishes such as My Quang, Cao Lau, Banh Dam, … Yes you can walk freely to see the city or you can also take a boat drop on the poetic river to admire the old town.
How far is Danang from Hoi An? How many kilometers?
The distance from Da Nang to Hoi An is about 30km to the south, with this distance you can move in about 30-35 minutes to arrive (depending on the speed you move anymore).
About the way is quite easy to go, you can choose to follow the following two main routes: (you can find your way at Google map).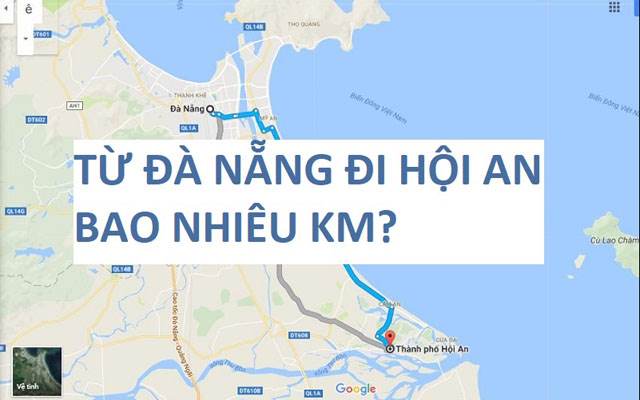 + Route 1: Go straight to Vo Nguyen Giap / Lac Long Quan then turn right to Hai Ba Trung, continue to turn left to Ly Thai To, run all the way to the next.
+ Route 2: From the airport, you go straight to Nguyen Huu Tho, go straight through Nguyen Chi Cong, turn right at Tran Dai Nghia then continue to Nguyen Tat Thanh and then on Ly Thuong Kiet Street, come here you all the way to the old town.
Vehicles from Da Nang to Hoi An
Currently, the transportation from Da Nang to Hoi An is quite diverse, you can choose one of the ways to travel to Hoi An below.
+ Bus:
The cheapest way to travel from Da Nang to Hoi An is probably the bus. From Da Nang to Hoi An you can take Bus No. 1, operating time: 5:30 – 18:00 with a frequency of 15 – 20 minutes with one trip.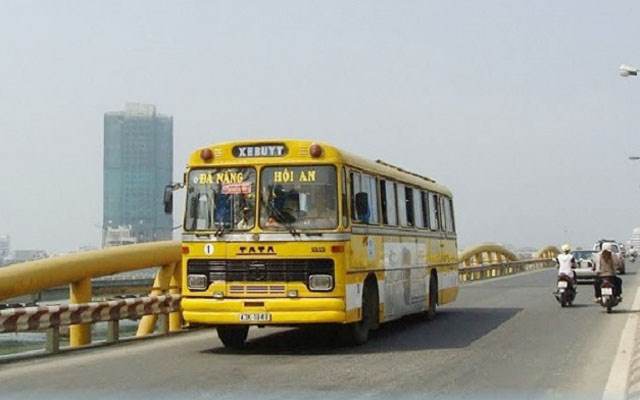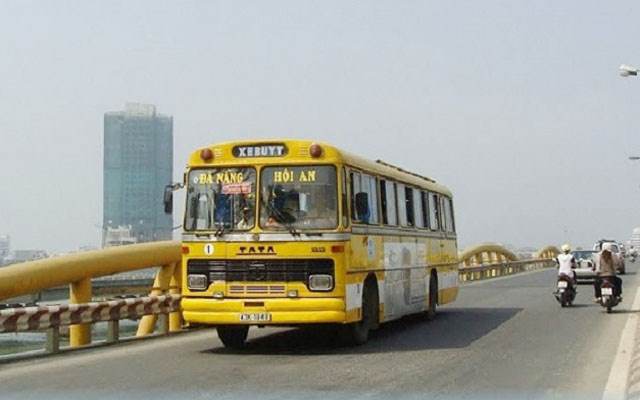 With this form of transportation, you will not need to spend too much because the price of the bus is quite cheap (16,000 VND / ticket), but the travel time of the bus will probably be longer than other means of transportation. other.
However, in my opinion, it is quite good because you can comfortably view the city on every route you pass.
With this Bus route there is a station at Marble Mountains so if you want you can use at Marble Mountains to explore first then continue to move to Hoi An.
+ Rent Motorcycles:
The next mode of transportation is also quite common and many young people when traveling to Da Nang self-sufficient choice is the motorbike.
With this means of transport you can be more free and comfortable in time and the price is quite reasonable. The price of renting a motorbike in Da Nang ranges from 80k – 130k / day (depending on the type of car you rent).
+ Private car:
In Danang, there are many car rental services for those traveling in large groups, if you are traveling in large groups, or if you are traveling with families with young children and adults who are not convenient to ride a motorcycle, you can rent a car travel. You can choose to rent a car or have a private driver.
+ Taxi:
Taxi is a popular form of transportation in Da Nang with many famous taxi companies such as Mai Linh, VinaSun, Han River, Tien Sa, Aviation, …
However, one thing you need to consider when choosing to rent a taxi to Hoi An is the quite price (you can say the price of taxi service in Da Nang is the most expensive).
But if you still prefer to travel by taxi for safety, you can contact and book a car at Hoi An's Car service to get the cheapest rates..
+ Take the tour:
Finally, go to Hoi An by tour, you will choose a tour to visit Hoi An and of course there will be a car to take you to your place.
You can choose to take a 1-day tour of Hoi An or follow the Danang-Hoi An Tour, the price in the tour is usually all-inclusive so you feel secure.
Above is the answer to the question "How far is Danang from Hoi An?" and "How many kilometers from Da Nang to Hoi An?" and the way to Hoi An.
Hopefully the article can provide you with the necessary information about Hoi An and how to move to Hoi An, wish you have an interesting tour to visit Da Nang – Hoi An this year. See you in the next posts.